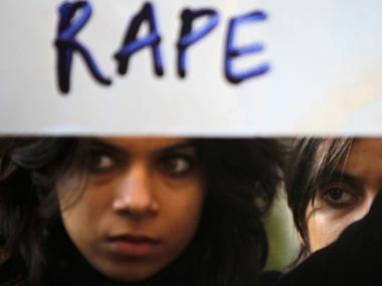 Every year, up to 95,000 people are raped, yet just over 1,000 attackers are jailed for their crimes.
A report by the Ministry of Justice, the Home Office & the Office for National Statistics has shown that less than one in six rapes results in a conviction and four out of every five rapes are not reported to the police.
"The most frequently cited [reasons] were that it would be 'embarrassing', they 'didn't think the police could do much to help', that the incident was 'too trivial/ not worth reporting', or that they saw it as a 'private/family matter and not police business'," the report said.
Javed Khan, chief executive of Victim Support, said: "Few victims feel confident enough to report attacks in the first place.
"Much more needs to be done to encourage rape victims to report incidents - such as promoting high-quality support services to help victims move on with their lives, and ensuring that we shift the rape 'blame culture' from victims to offenders."
As well as the 95,000 rapes, between 430,000 and 517,000 are the victims of other sexual offences.
It takes almost a year before charges are bought against a rapist. If the offender pleads not guilty, which they do in two thirds of cases, it takes 702 days on average before conviction.
Of those charged with rape in 2011, just under 3,000 cases were taken to court and only 1,070 attackers were jailed.
The report found that one in 20 women have been the victim of a serious sexual offence, while one in five have been the victim of other offences, such as sexual threats, unwanted touching or indecent exposure.
Young women at highest risk
It also showed that while women are much more likely to be the victim of a sexual offence, 12,000 men are also raped every year. Nine in 10 victims knew their attacker.
Women between the ages of 16 and 19 are at the highest risk of being the victim of a sexual offence. Single and separated women are also at increased risk, as are students, the disabled and those from the lowest income bracket.
Female respondents who had been victim to a most serious sexual offence said their attacker was most likely to be a young male. 47 per cent offenders are males aged between 20 and 39.
Of those men found guilty of sexual offences, 81 per cent were white, 7.6 per cent were black and 8.7 per cent were Asian.
Although the conviction rate is low, the sentences passed to rapists found guilty are substantial. Those convicted are jailed for at least eight and a half years.
Jeremy Wright, the justice minister, said: "All sexual offences are abhorrent. Very tough sentences are available to the courts for those who commit the most serious offences including a new mandatory life sentence which we have introduced for anyone convicted of a second very serious sexual or violent crime.
"We are already looking into how police cautions are being used. We shouldn't remove the right for police officers to exercise discretion but the public are right to expect that people who commit serious crimes will be brought before a court."
Despite this, shadow home secretary Yvette Cooper and the figures serve as a "wake-up call"
"These dreadful figures show why national action is desperately needed to tackle sexual violence," she said.
"It is appalling that the number of offenders being convicted for some of the most serious crimes is so low in comparison to the number of offences. And it is deeply unfair that so many victims do not get the justice or protection they deserve.
"More action is needed by the government, police, prosecutors, courts, councils and communities to deal with these horrible crimes and keep people safe."