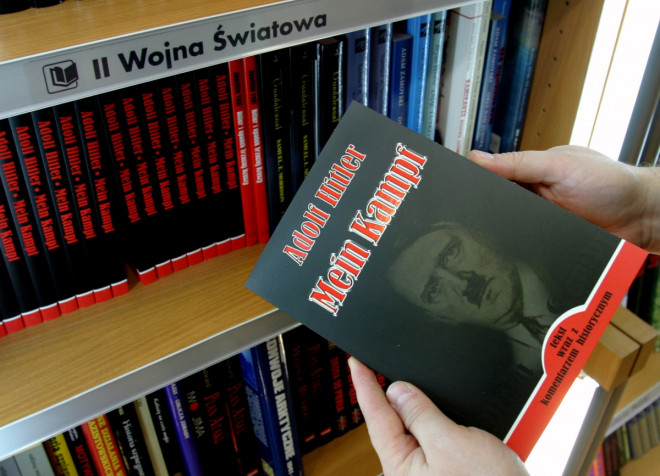 Two copies of Adolf Hitler's autobiography Mein Kampf, signed by the Nazi leader, will go under the hammer in Los Angeles.
Hitler signed the fly-leaf of the rare copies for Josef Bauer, one of the first members of the Nazi party, according to the auctioneer Nate D. Sanders Auctions, which has inscribed a minimum bid of $20,000 (£12,000) for the two volumes.
He dated his autograph inscription 1925 in the first copy, and 1926 in the second.
Hitler likely gifted the copies to Bauer on Christmas, sending his best wishes for the holiday season.
Bauer was also one of the leaders of the Beer Hall Putsch, a failed attempt by Hitler and his cohorts to overthrow the Bavarian government in Munich in November 1923.
Both the copies are bound in red cloth boards with gilt lettering. The auction house called the autobiography "an ominously signed set of books that futilely warned the world of Hitler's intentions."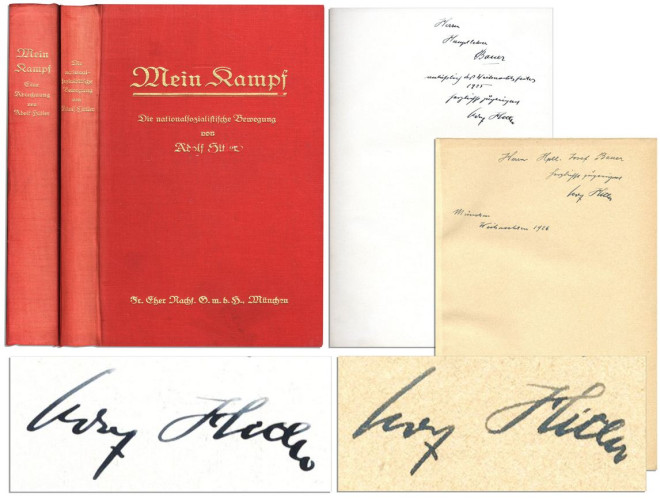 Hitler wrote Mein Kampf, meaning My Struggle, in 1924 during his imprisonment in Landsberg Prison following Beer Hall Putsch. It is a political manifesto in which he drafts his ideology and future plans for Germany that would eventually end up in a horrific genocide, a global war and the reorganisation of the European continent.
In his autobiography, the young Nazi leader blamed Jews, Marxists and a number of communities for the sufferings of Germany.
Experts believe that Mein Kampf and its underlying devastating goals were ignored by western political leaders until those plans were put into action.
The first volume of Mein Kampf was published in 1925, followed by the second in 1926. Both volumes were published by Franz Eher Nachfolger in Munich. Millions of copies of the book had been sold by the time Hitler came into power in 1933.