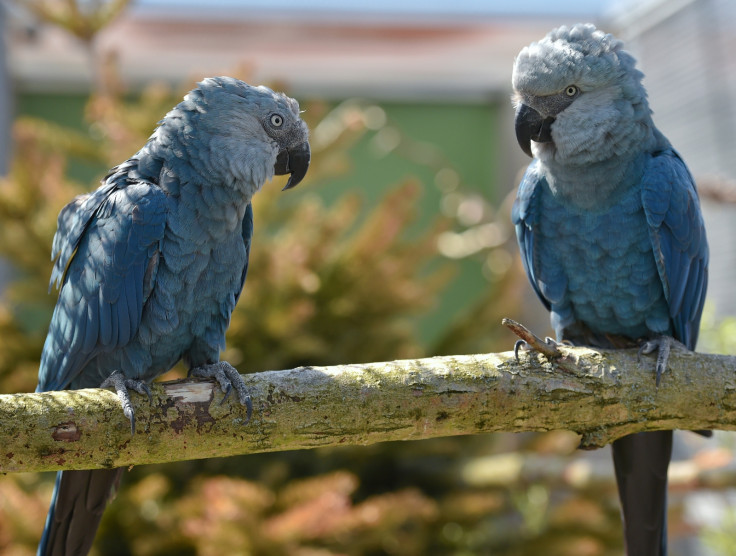 A rare blue Spix's Macaw that was believed to be extinct in the wild has been spotted for the first time in 15 years in Brazil. The parrot was caught on video flying through trees in the northeastern state of Bahia.
The critically endangered blue bird, made famous in the animated film Rio, which featured them as it's main characters "Blu" and "Rio" was believed to have been killed off in the wild by trappers.
But farmer Nauto Sergio de Oliveira spotted the creature on 18 July and after confirming his eyes hadn't deceived him, got his daughter Damilys to film it on her mobile phone.
She sent the footage to the Society for the Conservation of Birds in Brazil (SAVE Brasil) , who after hearing the bird's distinctive call, confirmed it was a Spix's Macaw.
"The local people were euphoric," SAVE Brasi's director Pedro Develey told Birdlife International. "They set up groups to locate the bird and control any potential dealers from entering the area."
"You should have seen the joy of the people when I got there, saying the macaw was back," he said, adding that he believed it had been freed by a poacher trying to avoid arrest. Also known as the little blue macaw, the medium size parrot which weights around 300g is native to Brazil and it's last known stronghold was in Bahia.
The last known wild bird was a male that vanished in 2000 but the species has been maintained through a captive breeding program at several conservation organisations under the guidance of the Brazilian government.
It is listed on the Convention on International Trade in Endangered Species of Wild Fauna and Flora (Cites) lists which makes trade illegal except for legitimate conservation, scientific or educational purposes. While the bird has not been spotted in recent days, Develey said they were mobilised to look after the bird.