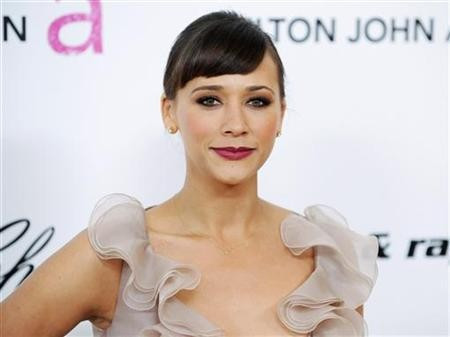 In the wake of Miley Cyrus' naked Wrecking Ball antics and the release of Rihanna's X-rated Turn it up video, one actress is taking a stand against female stars who flash the flesh.
Rashida Jones has slammed female celebrities for showing off too much skin, urging them to "stop acting like whores" in a rant on Twitter.
The Parks and Recreation star, who is the daughter of Quincy Jones, condemned the raunchy actions of particular celebs and urged her fans not to accept them as "the norm".
"This week's celeb news takeaway: she who comes closest to showing the actual inside of her vagina is most popular. #stopactinglikewhores," she told her 550,000 followers.
"Let me clarify. I don't shame anyone for anything they choose to do with their lives or bodies. But I think we all need to take a look at what we are accepting as the norm.
"There is a whole generation of young women watching. Sure, be sexy but leave something to the imagination."
Jones' remarks come weeks after Annie Lennox revealed that she was "disturbed" by "overtly sexualised performances and videos".
"I have to say that I'm You know the ones I'm talking about. It seems obvious that certain record companies are peddling highly-styled pornography with musical accompaniment," she wrote in Facebook.
"As if the tidal wave of sexualised imagery wasn't already bombarding impressionable young girls enough. I believe in freedom of speech and expression, but the market forces don't give a toss about the notion of boundaries. As long as there's booty to make money out of, it will be bought and sold."
She added: "It's depressing to see how these performers are so eager to push this new level of low. Their assumption seems to be that misogyny - utilised and displayed through oneself - is totally fine, as long as you are the one creating it."