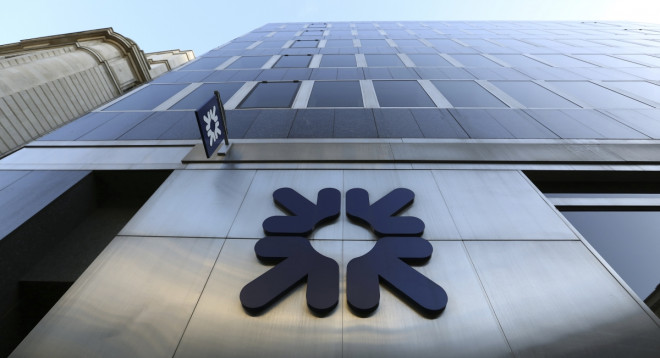 The Royal Bank of Scotland is allegedly in advanced talks with the UK government over resuming dividend payments despite the embattled lender losing £8.2bn in 2013.
According to a report by the Financial Times, RBS has deferred its annual general meeting to the end of June due to the talks.
RBS declined to comment.
RBS received a taxpayer funded £45bn (€54bn, $75bn) bailout in 2008, which eventually led it to be 81% owned by the government, and has to get permission from the UK Financial Investment group in order to pay bonuses or dividend payments.
RBS granted staff £576m in bonuses for 2013 despite the part nationalised lender losing £8.2bn over the past year.
According to RBS's 2013 results, the bank revealed in the same breath that will cough up over half a billion pounds in extra pay rewards as well as try to cut operating costs by £5.3bn.
Costly RBS Scandals

Following the credit crisis, RBS has been rocked by numerous scandals, from market manipulation, to mass mis-selling, to nationwide IT failures.

In February 2013, RBS agreed to pay £390m to settle US and UK charges related to the manipulation of the benchmark lending rate known as Libor, as well as pleading guilty to a criminal charge of wire fraud from a Japanese subsidiary.

At the end of November last year, the FCA has asked a number of banks to confirm that they have not engaged in similar practices to those allegedly followed by RBS in which businesses were engineered into default while the firm profited from them.

Lawrence Tomlinson, an adviser to Britain's business secretary Vince Cable, claimed that RBS pushed businesses into default after moving them into its Global Restructuring Group (GRG).

The FCA only just kicked off its own review last month.

At the same time, RBS put aside another £3.1bn to settle claims over the mis-selling of payment protection insurance (PPI), mortgage products and interest rate swap agreements.

However, on top of all these problems, RBS is still having to tackle "decades of IT system investment failure," which left millions of customers unable to pay for goods and services or receive payments, after several service outages.

In tandem, the 12,000-strong RBOS Shareholder Action Group is taking the bank to court over allegations that the bank did not fully disclose its true financial condition prior to the government bailout.