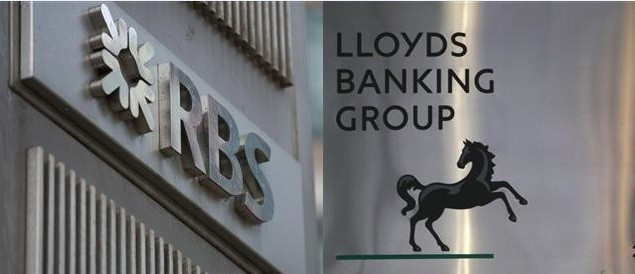 The UK government should hand back a majority of the Royal Bank of Scotland and Lloyds Banking Group's shares to the taxpayer, in order to return the banks into the private sector where "they belong", urges one of Britain's most influential think tanks.
According to a report by Policy Exchange, by pushing for a mass share distribution which would lead to the country's largest ever privatisation, the banks' stability will be increased without major risk to the taxpayer.
"We urge the UK Chancellor (George Osborne) to take this method and apply it to both RBS and Lloyds giving the taxpayer an opportunity to profit from both and get the banks back into the private sector, where they belong," said Policy Exchange in a report.
In 2008, the UK government pumped £66bn (€78bn, $102bn) into the banks in order to keep them from collapsing.
Subsequently, it led RBS to be 81% owned by the taxpayer while Lloyds is currently 42% owned by the government.
RBS is currently valued at £19bn while Lloyds is around £44bn.
While RBS has repeatedly eyed privatisation by 2014, over the last few months, the details on how this would be achieved are being thrashed out in parliament.
Some members of the Parliamentary Commission on Banking Standards (PCBS) have backed proposals to create a 'good' and 'bad' bank for RBS, so more risky assets could be kept separate from the profit making side of the bank.
Some analysts, such as James Barty, former head of global equity strategy at Deutsche Bank, said that by giving taxpayers the shares, without a government claw-back, would possibly lead to an increase national debt by around £50bn.
Policy Exchange said the government should mass distribute shares to individuals, which equates to around 70%, while only handing over a minority to institutions.
It says that is entirely feasible that both banks would then be able to be privatised by the end of 2014.
Policy Exchange said that 48 million taxpayers would be able to apply for shares at no cost and with no risk attached.
It added that if a 'floor price' was installed, it would mean that taxpayers would buy shares at a minimum price and therefor any stock price rise would lead to a profit.
However, the think tank did not suggest what the floor price should stand at and said it estimates only 20 to 30 million people would apply for the shares as many would think it would be too much hassle to do so.
Policy Exchange estimates that taxpayers would receive shares worth between £1,100 and £1,650 depending on how many people take up the offer.
Influencing Government?
The Policy Exchange's recommendations come just as media reports surfaced that Osborne will launch the early sale to the public of shares in bailed-out lender Lloyds.
According to the Sunday Times, not citing sources, Osborne will announce the sale of the government's stake in Lloyds, during his annual policy speech to London's financiers and business community at Mansion House on 19 June this year.
The stake sale is set to raise£17bn.
The PCBS is also set to publish its recommendations on what to do with RBS and Lloyds shares around the same time this month.
Policy Exchange is known as one of Britain's most influential think tanks, as it is considered to have an ear of senior government figures.
Last year, Osborne hired the group's former director, as a special adviser.
In May, Prime Minister David Cameron said he was "open to all ideas" for returning the banks to private privatisation and The Finance Ministry and UK Financial Investments, which manages the government's shareholdings, is already expected to be in favour selling the shares in blocks to financial institutions, such as pension funds.