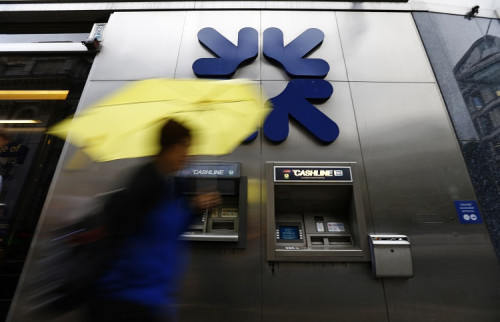 The Royal Bank of Scotland has put aside another £3.1bn to settle claims related to misdeeds stemming from before the financial crisis.
In an update before its full year results are released on the 27 February, RBS said it was making amends for scandals related to payment protection insurance (PPI), mortgage products and interest rate hedging.
To help pay for the additional costs, RBS executives have all waived any bonuses for 2013.
"At the peak of the financial crisis, RBS was the biggest bank in the world," said RBS chief executive Ross McEwan.
"When the crisis broke the bank was involved in a number of different businesses in multiple countries that have subsequently faced heavy scrutiny by customers and regulators.
"The scale of the bad decisions during that period means that some problems are still just emerging. The good news is we are now a much stronger bank and can manage these costs while still supporting our customers."
Claims Details
RBS said it set aside a further £500m (€606m, $828.6m) to settle interest rate hedging claims, taking the total provision to £1.25bn.
Interest rate swap agreements are contracts between banks and customers where typically one side pays a floating or variable rate of interest and receives a fixed rate of interest payments in exchange.
Such contracts are used to hedge against extreme movements in market interest rates over a given period.
"It is good that they are planning ahead here but the key thing is to expedite existing claims," said Fraser Whitehead, head of group litigation at Slater & Gordon.
"We have more than 250 clients, many of whom are waiting for initial decisions and interim payments from banks and RBS have been one of the slowest we have dealt with throughout this process."
RBS also set aside a further £465m for PPI misselling claims against the bank.
PPI was originally designed to provide loan repayment cover, should the customer fall ill, lose their job or have an accident.
However, millions of customers complained because they never wanted or needed the policy in the first place and had been missold PPI. The total provision for PPI claims against RBS is now £3.1bn.
RBS set aside £1.9bn related to mortgage-backed securities and securities related litigation. This followed recent third party litigation settlements and regulatory decisions it added.
There was also an extra £200m in unspecified conduct and legal expenses.
According to the ratings agency Standard & Poor's said that its ratings on RBS were unaffected by the bank's trading update which detailed the additional compensation and litigation provisions.
The Long View
McEwan said the latest sums of money to settle past mistakes at RBS were a legacy of the bank's bad management in the run up to the financial crisis.
"Billions of pounds have been spent to resolve conduct and litigation issues in recent years," he said.
"Costs on this scale were not predicted by anyone when RBS was rescued in 2008. They come in addition to the costs of restructuring the bank's bad assets and restoring its funding to prudent levels after the financial crisis. They were a key reason we took the difficult decisions to reset our capital position last November.
"After five years of hard work and tough choices, the path ahead for RBS is much clearer. We have restored our fundamental soundness and have the financial strength to deal with issues like this.
"We will now become a much simpler, more effective bank for our customers and shareholders.
"We are now well advanced in our efforts to deal with those things that distract us from building a better bank for customers, employees and shareholders. I am confident that we will build a great bank for the UK and I will have more to say on this in the coming weeks."
RBS is 81% owned by the UK taxpayer after a £45bn bailout at the height of the financial crisis spared it from bankruptcy.