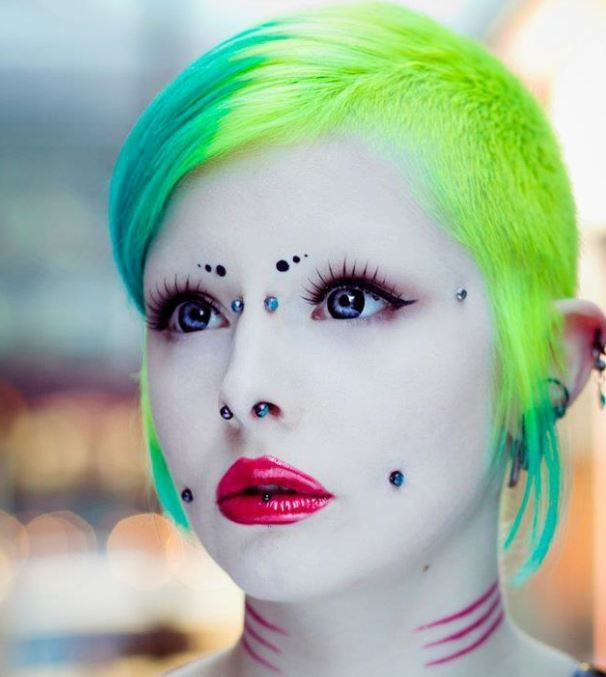 Ukrainian model Valeria Lukyanova captured global attention when she was declared a real-life Barbie doll last year and photos of her doll-like appearance began circulating in the media.
With time, many "living dolls" who have undergone plastic surgeries to attain the look have come up on social networking sites.
An 18-year-old art student, Katie Lawrence, from Camberwell, admits being obsessed with looking like a doll. She reportedly spends three hours a day and more than £200 a month on make-up, to create her look. Lawrence also uses Japanese culture and video games as her inspiration and dresses in petticoats and pastel colours.
"When I walk down the street dressed like this people do a double take - some even ask to have their picture taken with me," she told Huffington Post, "I love the doll-like wide eyes that the animations have. l spend ages putting in circle lenses and two sets of false eyelashes to get the look. But it's important to me to look individual too, and that's where my piercings come in. And one day I'd love to have plastic surgery to get elf ears. To be honest I think real life dolls Valeria Lukyanova and Anastasiya Shpagina have taken the most boring parts from anime culture to create their looks."
Lawrence who completed her schooling from King's in Worcester was not allowed to wear makeup in the classroom.
"Even though I was bullied at school for being individual, I never wanted to conform," Lawrence said, "Dressing like this makes me happy and I wouldn't change it for anyone. Even if I'm just going to the shops, I'll always wear something flamboyant - it's part of who I am. I don't think that enough young people experiment with their style, so I hope I can be an inspiration."
She has created her own Facebook page, and uses a different name - Iska Ithil, which has already garnered more than 31,000 likes. On her YouTube channel, she also uploaded tutorials on how to put on make up to look like a doll.