A photograph has been released on Twitter apparently showing US soldier Bowe Bergdahl - captured by the Taliban in Afghanistan and held for five years before being released - smiling with a senior Taliban militant.
In the photograph, published on a Twitter account associated with the Taliban, Bergdahl can be seen apparently smiling and relaxed as Taliban commander Badruddin Haqqani drapes an arm around his shoulders. The caption imposed on the photograph reads "soldiers of the Haqqani".
The Middle East Research Institute has confirmed the man is Haqqani, who was killed in a US drone strike in August 2012. After five years in captivity Bergdahl was released by the Taliban on 31 May this year in return for five Guantanamo Bay prisoners. In other posts on the Twitter account - @khorasan3 - the group claim Bergdahl was treated well in captivity and never tortured:
"Bowe #Bergdahl was really impressed when he saw the hospitality of #Taliban He first thought that he will be tortured But he was wrong".
Bergdahl's release was hailed by President Obama in a press conference with the soldier's parents at the White House. Obama said Bergdahl, 28, was released due to ill-health and it was expected he would return to his hometown of Hailey, Idaho to a hero's welcome.
However, in a narrative arc reminiscent of the plot of cult show "Homeland," many people became suspicious of Bergdahl and a planned welcome home event in his hometown was cancelled as former members of his unit said they believe he abandoned his post and sought out the Taliban.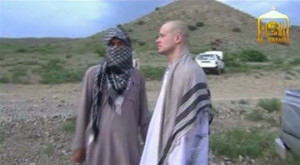 Army Sgt. Evan Buetow, who led a platoon in Afghanistan, said to Fox News: "I think it's very clear he deserted his post. He thought about what he was doing, he mailed some things home, he walked away and we have witnesses who saw him walking away. And if you're walking away in one of the worst, most dangerous areas of Afghanistan without your weapon and gear, I don't believe you're planning on coming back."
Bergdahl is still held at Fort Sam Houston in San Antonio for his "reintegration" process, and is free to visit local libraries and shops. Major General Kenneth Dahl is investigating whether he deserted his post to seek out the Taliban or simply went AWOL, in which case he may well have returned had he not been captured. If he did desert his post he could be court-martialled.