Real Madrid officials have been encouraged to consider selling former Tottenham Hotspur star Gareth Bale to Manchester United after a recent poll by Spanish newspaper AS revealed more than half of their readers are in favour to his £120m departure.
Real Madrid lured Bale from White Hart Lane in summer 2013 for around £91m after the Welshman was named the best Premier League player of the previous campaign.
Although Bale has since scored 33 goals in 66 appearances, including one each in all the Copa del Rey final, the Champions League final, and most recently in the Club World Cup final, he has been under scrutiny many times by both supporters and pundits.
Spanish football expert Guillem Balague reports on Diario AS on Tuesday, 23 December that van Gaal has earmarked him as the next United marquee summer signing and the Premier League giants are ready to offer £120m to Real Madrid for his services.
And most of the Spanish giants' supporters look to be in favour of closing the deal.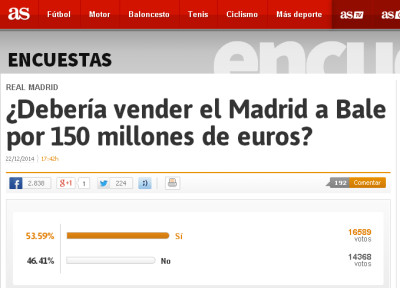 When questioned on whether they would sell the former Spurs legend for £120m, 53.59% of the over 30,000 poll respondents voted yes while the other 46% are against his exit.
Even though everyone is entitled to vote in the poll, when looking at the results it is worth keeping in mind that AS is based in Madrid and most of their readers support the Champions League winners.
The deal will see Real Madrid getting around £30m over the fee they paid to Tottenham just one and a half seasons ago.
Furthermore, Bale's departure will make space for Borussia Dortmund star Marco Reus, as following the arrival of £63m James Rodriguez in the summer, Los Blancos cannot sign the German international without selling one of its forwards first.