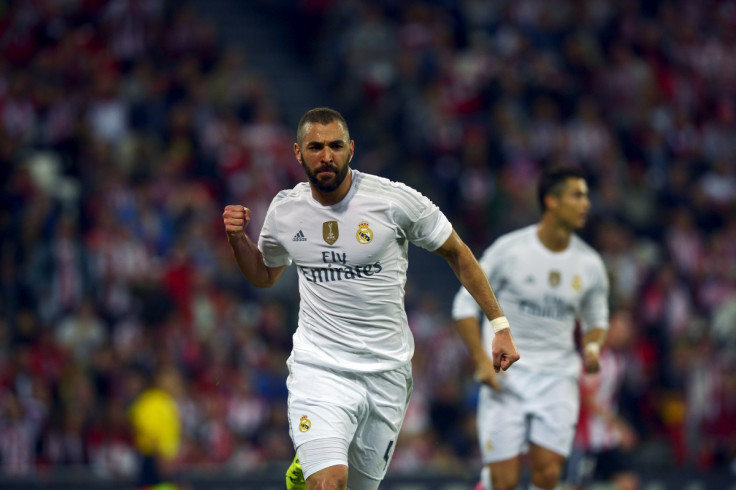 Karim Benzema has hinted at his sympathies with those criticising Real Madrid manager Rafa Benitez for his "ultra-defensive" approach to tactics, after being substituted during the 1-1 draw with Atletico Madrid on Sunday night.
The France international gave Los Blancos the lead in the first half but was replaced by midfielder Mateo Kovaciv in the 76th minute to preserve Real's 1-0 lead. However, Luciano Vietto netted the equaliser for Atletico just six minutes later.
Both As and Marca have put Benitez's decisions under scrutiny, believing Real's inability to kill off the game was due to the former Liverpool gaffer's conservative approach to football.
Marca said: "Real Madrid under Rafa Benítez have had a reminder that the age-old tactics of going for the win by putting all your eggs in the clean-sheet basket does not always have a happy ending. Even less so when they are clearly counting on scraping by and relying on the law of least effort. Falling back, taking the conservative route, constantly playing for time in a game is not a strategy that sits well with the Real Madrid philosophy. A step forward is almost always better than a step back."
AS head editor Alfredo Relaño has also singled out the manager's prudence as the reason for the draw, adding: "The final result, however, doesn't reflect well on Benitez. His Madrid team failed to push on when they were in control and retreated too much when Atletico were in the ascendancy. His changes were conservative and his team failed to find they key to launch their traditional counter-attacks, even with [Gareth] Bale on the pitch, as Atletico started to secure a foothold on the game."
It seems that Benzema shares the view of the media, voicing his frustration after being replaced for a more defensive player. The Frenchman is the current top scorer in La Liga, but has been replaced in six of seven league games so far this year.
Asked about this statistic after the game, Benzema was quoted by AS as saying: "I'm a relaxed person and will keeping work hard so I'm not the player who gets taken off."
"I was subbed to make the team more defensive given the result. [My substitution] is a question for the coach, I'm on the pitch to help the team".
Benitez was under scrutiny for his defensive style earlier in the season following a goalless draw with newly promoted Sporting Gijon in the La Liga opener, although a run of five consecutive wins saw this conversation quietened. However, the draw against Real Madrid has reopened these wounds, with some fans unimpressed by the team's style.