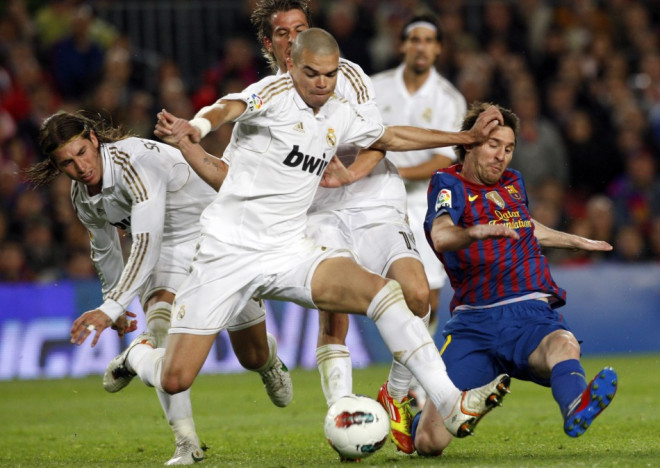 Real Madrid star Pepe has hit back at Chelsea boss Jose Mourinho after the Portuguese manager recently complained that his former players cared more about how they looked than winning trophies.
Mourinho left the Santiago Bernabeu last summer following a falling-out with a number of Real Madrid stars, including Iker Casillas and Pepe himself.
In an recent interview with Esquire magazine, the Chelsea boss criticised his former players, claiming that they spent too much time in front of the mirror rather than focus on football.
"Lots of times at Real Madrid, the players would be queuing in front of the mirror before the game while the referee waited for them in the tunnel," he said.
Asked about Mourinho's barb in an interview with Spanish radio station Onda Cero, Pepe responded: "Just like Mou to be the only human being that gets up in the morning and doesn't look at himself in the mirror."
"We won't be drawn in by it. It's part of day-to-day life and it hasn't affected us at all. It's quite normal for us to look after our image in order to create a good impression for the club we play for, namely Real Madrid. When we are in front of the cameras, in the media, etc., I think this is perfectly acceptable," Pepe added.
The centre-back also suggested Real Madrid were stronger since the arrival of new manager Carlo Ancelotti at the Santiago Bernabeu following Mourinho's departure.
"Ancelotti has brought calm to the team. He was a player himself and knows where he's come from. He has settled things down and given us the tranquillity we need to play well. I am very happy playing under him because he is close to the players and understands their needs".
Pepe's relationship with Mourinho deteriorated at the end of last season, when the centre-back claimed that the Portuguese boss was disrespectful to goalie Iker Casillas after claiming he made a mistake not signing Diego Lopez to replace the Real Madrid legend.
"We should respect Iker a little bit more. The boss' quotes have not been correct. Iker is a legend, in Real Madrid and in Spain. He has to know that we and the fans are with him," Pepe said then.