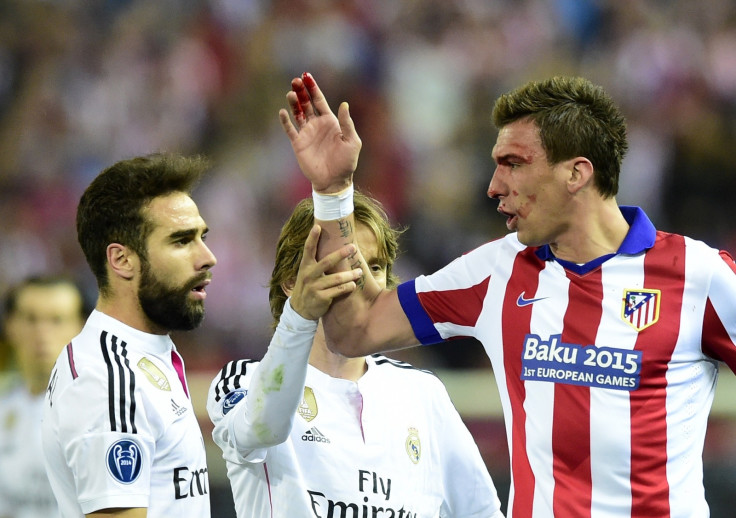 Real Madrid are sweating over potential sanctions to Dani Carvajal after the Spanish right-back allegedly bit Mario Mandzukic in the second half of the Champions League quarter final first-leg against Atletico Madrid on 14 April.
Even though Serbian referee Milorad Mazic did not see the incident, images in Spanish press and social media after the game showed how Carvajal reacted to a push of the Atletico Madrid striker with an odd gesture before punching his rival.
Carvajal clearly threw a punch at Mandzukic and was lucky to escape without a red card for it but it looks impossible to conclusively tell from the images whether he also bit the Atletico Madrid striker.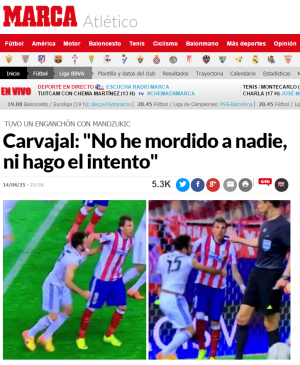 But Real Madrid are concerned Uefa can review the incident and take direct action against the Spaniard after Fifa retrospectively suspended Luis Suarez for nine international matches and handed him a four-month ban from competitive football after he bit Giorgio Chiellini during a 2014 World Cup game.
Other images have shown a small wound on Mandzukic's arm although, again, it is uncertain whether it is a bite mark.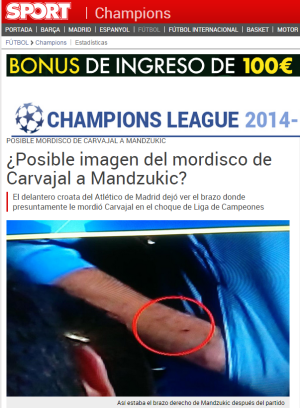 Nevertheless, Carvajal published a tweet after the game to deny it. "I saw after the game that I am accused of biting an opposing player. Let me make it clear that I have not bitten anyone, nor did I attempt to do so," he said on Twitter.
Meanwhile, Atletico Madrid manager Diego Simeone did not want to add fuel to the speculation. When asked about what happened between Carvajal and Mandzukic, he said: "I didn't see it."
While questioned whether he had spoken to Mandzukic, Simeone responded: "I don't talk to him much because the language makes it hard. But he had a marvellous game. There are lots of referees on the pitch, we're there to manage the players."
But on the morning of 15 April, Mandzukic put an end to the controversy on his Twitter account by claiming Carvajal did not bite him.
He wrote: "Good morning! Yesterday's match was very hard and both teams gave everything, but for me there was no controversy, no bite, no nothing."