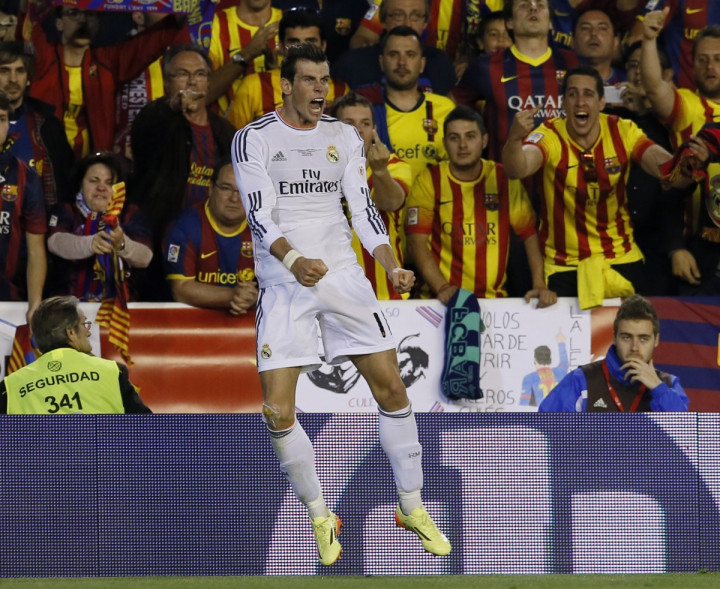 Real Madrid manager Carlo Ancelotti has revealed that Gareth Bale will miss the El Clasico at the weekend against Barcelona.
This is a major blow for the Spanish capital club ahead of their biggest fixture of the season, a match both teams want to desperately win.
Both teams have hit form and are on a winning run, but the Welshman's absence will be a blessing for the Catalan side, and to add to that Barcelona will have the services of Luis Suarez, who completes his four-month ban for biting Giorgio Chiellini during the World Cup in Brazil.
"Bale picked up an injury in training on Friday and is not available for Liverpool nor the game on Saturday," Ancelotti said, as quoted by the Mirror.
"We'll see how things progress with his recovery."
"Bale travelled to Valencia because the injury didn't seem that serious. We thought it was just fatigue but when we returned he had a scan which showed a tear," the Real boss explained.
Bale has remained in Spain to undergo treatment, while the rest of the squad are currently in England preparing for their encounter with Liverpool in the Champions League.
Meanwhile, Ancelotti insists that the reigning European champions are not going to change their 'philosophy' when they take on the Reds, as they plan to dominate the Premier League side with their quality.
He also brushed off claims that his team will have one eye on the El Clasico at the weekend as he believes Liverpool are a really strong team that needs all of their attention if they want to win.
"The philosophy of our play isn't going to change and less so against a competitive team that's really strong at home. The idea is to control the match with our quality."
"We're here and it would be strange to be thinking about the match on Saturday. Liverpool are a team with a lot of dynamism that's really good on the transitions between defence and attack. That's what I'm most worried about," the former AC Milan manager said, as quoted on Real's official site.
The Real manager also had words of praise for Reds' summer signing Mario Balotelli and has called on the Anfield faithful to show some patience, as he feels any new signing will take time to settle. He is confident the Italian international has the quality needed to excel at Liverpool.
"I know him really well. He is a quality player and we have to be on our guard against him. He is young and he is out to do well for this team. When a player arrives in a new atmosphere you have to be patient with him. He has the quality to compete at the top level," Ancelotti concluded.