Smartwatches have been the hype of the tech scene for several years with every manufacturer eager to get its wearable on the wrists of consumers. Despite all its buzz, the reality is nobody is giving the wearables time of day, with a recent survey revealing only 3% of people in the US own one.
You could be fooled into thinking Apple Watches or Samsung Gears are being snapped up at a record rate but take a look around and see how many people actually have a wearable on. Not many. There will be the odd early adopter but as far as mainstream uptake goes, they far from hit the dizzying heights of smartphone numbers.
Kantar Worldpanel, who specialises in monitoring and analysing consumer behaviour, found the wearables market is still in its infancy, with a mere 3% of the US population age 16 and up owning a smartwatch. Its survey among 11,000 people unearthed some interesting truths as to why the gadget fails to make people tick.
Top five reasons why people haven't bought
a smartwatch
1. They're too expensive – 41%
2. My phone does everything I need – 33%
3. I do not want to wear a watch – 32%
4. Smartwatch functions aren't useful to me – 29%
5. I don't understand why I need one – 27%
Survey by Kantar Worldpanel conducted in the US of 11,000 people.
The main reason was cost, with 41% of those surveyed saying the devices are too expensive. While it is fair to say wearables can vary in price, the cheapest Apple Watch comes in at £299, while Samsung's Gear S2 smartwatch is £249 and the popular Pebble Time is £215 – something that is clearly a stretch too far for consumers right now.
This price then goes in hand with the second biggest reason why people aren't buying smartwatches, with 33% saying their smartphone does everything they need. Of course smartwatches are not intended to be replacements for mobile phones but people do not believe they need to spend the money on a device that does a similar job to their phone.
Meanwhile, a further 29% of those surveyed said smartwatch functions are not useful to them, closely followed by 27% of people who do not understand why they need one. It is clear there are many who simply do not know what a smartwatch does so cannot justify the purchase, while a large portion of the public (32%) simply do not want one of the devices on their wrist.
We never like being negative about emerging technologies but it is time to fact facts. Even on the IBTimes UK tech team there is only one of us who is wearing a smartwatch and that is mainly due to the fact it is styled like a normal watch; the wearer admits to never using its smart functions. Personally, features-for-price is an obstacle as is styling; so unless there is a use that will truly transform my day delivered on a device that looks as good as a traditional watch then I'm yet to be convinced.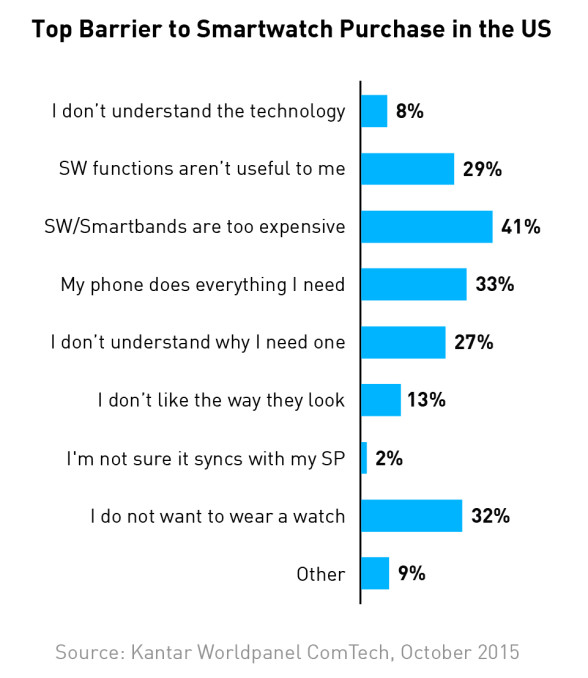 Apple Watch sales figures
So are these facts and figures damning? Apple, who released its Apple Watch in April, is remaining quiet on the number of units shipped. Unlike its iPhone and Mac sales figures, which it obviously shouts about at every financial quarter, Apple refuses to say how well it has done and placed the Apple Watch under its "other" category along with Apple TV, Beats and accessories, so it is hard to extract exact figures. Despite this, industry analysts have estimated Apple sold 3.6 million units in the second quarter of 2015, someway short of its 40 million projection, but still way ahead of the competition.
It is reported that Samsung's latest Gear S2 is selling well in South Korea, with an estimated 2000 selling each day since its launch at the beginning of October – that's double what the company sold for its previous Gear S. However, the company still only shifted 1.2 million units of its smartwatch in 2014 and Pebble sold approximately 700,000 to 800,000 watches.
From the reasons why consumers are refusing to adopt smartwatches, it is clear the wearable has some way to go convince the market why they need one. A lower price point may help but it is essentially baby steps for the smartwatch industry.