Amsterdam is to lose the vice scene that had made it famous throughout the world after the local council announced plans to clean up on the city's red light district.
Project 1012, named after the district's postal code, will revoke the licences of coffee shops, gambling houses and brothels if they are discovered to be involved in criminal behaviour. Women trafficking and money-laundering have blighted the historic city and discouraged new businesses from moving into the area, say legislators.
Famed for its lax laws towards drugs and prostitution, Amsterdam has drawn millions of tourists every year to the red light district. Legislation was passed earlier this year banning tourists from the country's infamous coffee shops, where cannabis is offered over the counter.
Deputy mayor Lodewijk Asscher, who is spearheading the clean-up project, said that the strict laws imposed on the red light district would benefit prostitutes working in the area:
"The women who used to work in these brothels get offered a project, a stepping-out programme, to help them find another job, another profession," he said. "But the main effect will be that the 'signpost', which is above Amsterdam, pointing to all Europe [that says that] if you want to traffic women, this is the place you can go. That signpost has to go."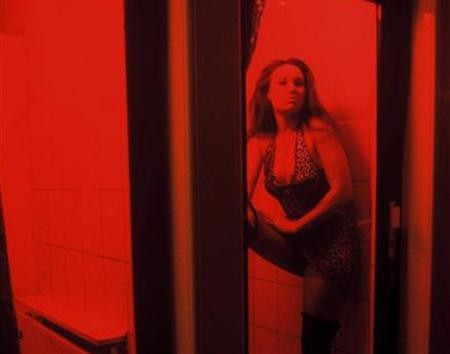 The move coincides with a new prostitution law being pushed through the Dutch parliament, which would tax sex workers.
More than 100 brothel windows in which sex workers would sit have gone dark under the clean-up and a third of the 76 coffee shops have closed. Asscher said he hope to attract more than £600m of investment from lucrative businesses moving to the area.
But many social workers said the clampdown would merely drive the women underground, leaving them more vulnerable to abuse. Mariska Majoor, a former sex worker and head of the Prositution Information Centre in Amsterdam, said that Asscher's views were misguided and that he was taking away women's independence.
"He is making a huge mistake to see prostitution as human trafficking so it's impossible for him and his colleagues to look at sex workers as independent women that choose to do it themselves," she said. "If he wants to do something for them, he has to give them the possibility to stand up for their rights and to improve their position and he's not helping them at all by taking away the working places and victimising them."
Jerry, a resident who has lived in the city for four years, was pessimistic about what the new plans would mean for the future of the city.
"It's bad for Amsterdam. Amsterdam, it's the red light district and if they move it, Amsterdam is dead."