As rumoured, the bright red variant of Google's fifth Nexus smartphone is now officially available on Google Play Store.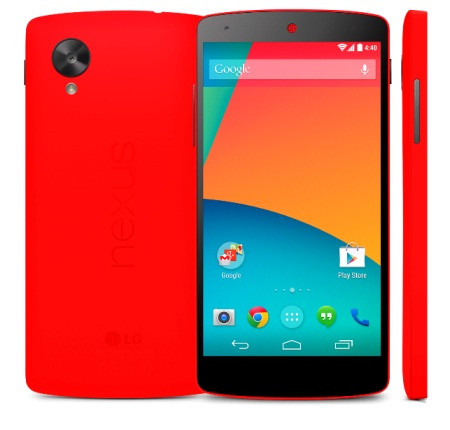 Recently a bunch of photos of photos of the Nexus 5 red edition has been leaked. Following this, renowned Twitter leaker, evleaks posted a purported photo of the LG manufactured red Nexus 5.
Now LG has confirmed the availability of the new red variant.
"The Nexus line has always been about doing things differently and consumers who share this philosophy have been our most loyal fans. We are carrying this thinking over to the red Nexus 5, which we think will catch the eye of consumers who want to make an even bolder statement," said Dr. Jong-seok Park, president and CEO of LG Electronics Mobile Communications Company.
The red Nexus 5 will be available on Google Play starting this month in a number of countries such as UK, US, Canada, France, Germany, Italy, Spain, Australia, Hong Kong, India, Japan and Korea. The device will be come in other European countries by the end of this month.
The red Nexus 5, as GSMArena notes, carries the same price tag as before, with the 16GB variant costing £299 and the 32GB at £339.
Besides, consumers will be able to purchase the red Nexus 5 from Carphone Warehouse retail stores in the UK. The retailer is selling SIM-free red Nexus 5 with 16GB storage option at a suggested retail price of £298.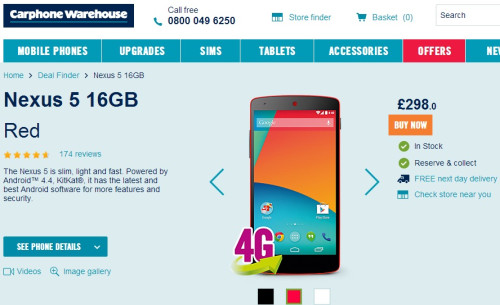 The red model is also available for pre-order at Carphone Warehouse as 'Pay Monthly' on contracts with Vodafone, Talkmobile, O2, Orange, T-Mobile and EE.
Vodafone is offering the red Nexus 5 without any initial payment and at just £21 per month for a contract length of 24 months. The deal also includes 300 minutes to any network, unlimited texts and 250MB data.
O2 consumers will have to pay £27 a-month for the red Nexus 5 and get unlimited texts and minutes and 1GB data. Orange is changing £27.99 per month for a contract of 24 month, which includes 1000 minutes, unlimited texts and 500MB data. The Nexus 5 at T-Mobile costs £32.99 a month with 250 minutes, unlimited texts and data.
Click here to know more about the data plans offered by several network operators at Carphone Warehouse.