Carrying all the features of Xperia Z1, the new Xperia Z1 Compact comes in perfectly palm-sized proportions. The overall reduction in the size offers small space for the 2, 300mAh battery as opposed to the 3,000mAh battery of the standard Xperia Z1.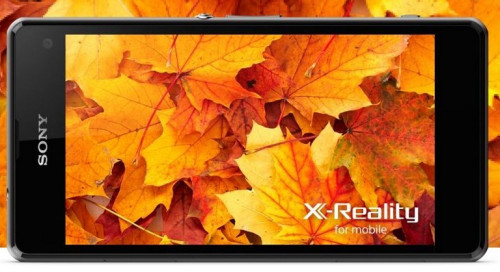 The smaller battery still offers great endurance, which is well reflected in a series of battery tests conducted by GSMArena.
The Xperia Z1 Compact ran close to 21 hours (20n hours and 42 minutes) in the 3G talk time battery test. This is almost three hours more than the official talk time rating.
Besides, the Z1 Compact performed quite well than the rival mini models such as Galaxy S4 Mini and One Mini, which offered talk time up to 13 hours and 10 minutes and 12 hours and four minutes respectively.
What is even more interesting is Xperia Z1 Compact delivered double the talk time of Apple's flagship, iPhone 5s, which stayed for 10 hours and 46 minutes in the test.
Nokia's largest Windows Phone, Lumia 1520 featuring a 6in display, occupied the first place in the battery test with longest talk time up to 28 hours and 34 minutes.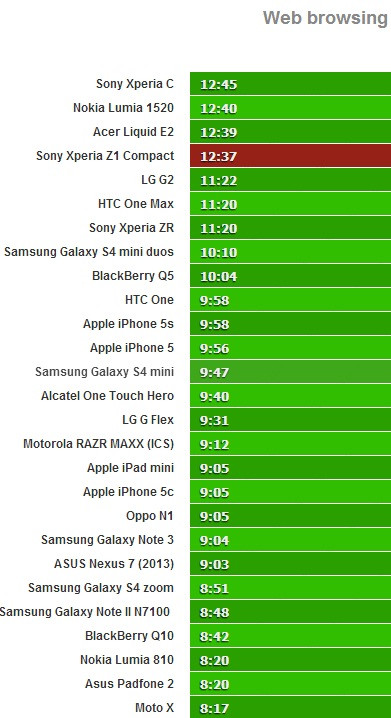 The Z1 Compact features a smaller screen of 720p resolution, but this is without affecting the screen sharpness. In addition to that, the small screen increases the battery efficiency in the web browsing. The Xperia Z1 Compact was one among the top five performers in the web browsing test. It fell short of just eight minutes than the web browsing time offered by Xperia C, which was the winner with internet use up to 12 hours and 45 minutes.
The Xperia Z1 Compact was again ahead of Galaxy S4 Mini and HTC One Mini. The Xperia Z1's battery is about 30% bigger, but its screen surface area is 35% bigger, with 1080p resolution which is nearly twice than the 720p display.
The web browsing results suggest that the Xperia Z1 burns through its battery in less than 6 hours (five hours and 59 minutes).
In the video playback test, the Z1 Compact lasted over 10 hours. The Galaxy S4 Mini beat Sony's new camera smartphone by three hours. The LG G Flex delivered the longest video playback time up to 19 hours and 57 minutes.
However, the Xperia Z1 Compact offered impressive battery performance. Thanks to the battery, smaller 720p screen and the quad-core processor. The Xperia Z1 Compact scored an endurance rating of 65 hours, against the 53 hours of the Xperia Z1.