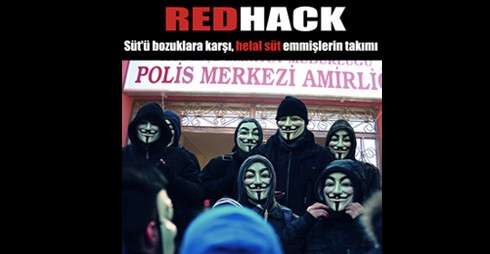 The Turkish Marxist cyberactivist group RedHack has attacked the websites of milk companies in the country, following a recent scandal in which hundreds of children were poisoned by state-distributed milk in schools.
The group hacked websites belonging to companies that were associated with the project, leaving a note on each company's website accusing it of receiving funds from the project as a result of having links with the ruling Justice and Development Party (AKP).
"You're not the only ones to blame," the note read.
The hacktivists claimed they are not against the state initiative to distribute free milk in schools. "We are against poison," they wrote on Twitter.
Around 300 schoolchildren in Turkey's southeastern province of Diyarbakir and a further 500 students in Sivas province were taken to hospital after drinking the tainted milk.
The Education Ministry immediately stopped the distribution of milk. A doctor from the Sivas hospital told Hurriyet Daily News that the mass poisoning incident could be the result of the children receiving milk that that had expired.
But the head of the milk's producer union, former AKP deputy Ali Koyuncu, denied that expired milk had been distributed and claimed that the schoolchildren may have been affected by mass hysteria.
RedHack, a political online group founded in 1997, uses "defacement hacking" to "raise awareness of the poor against the elite that tries to strip our rights and freedoms", the group says on its website.
Members of the group stole data from Turkey's police network and the Ankara police directorate in March, forcing them to shut down all of their servers. The stolen data related to informants, complaints and other correspondence.
The group recently received the backing of the Anonymous hacking collective, who condemned Turkey's crackdown on cyber crime in the name of internet freedom.
For further news on RedHack's recent activities, check out the IBTimes UK Cyber Warfare section.