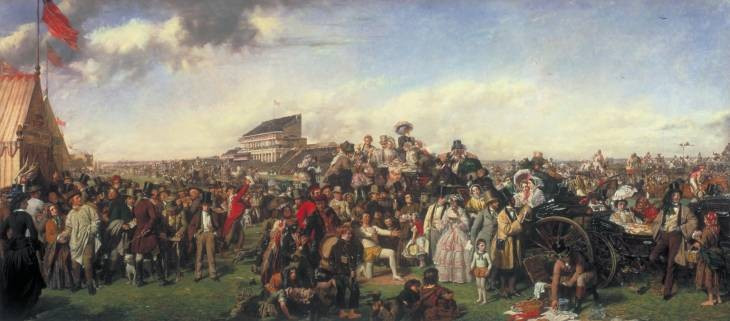 A long-lost painting by English Victorian era painter William Powell Frith has set a new world record after being sold for £505,250 at a London auction.
"The Derby Day" is one of the most famous artworks by Frith, which depicts a 39 centimeter by 91 centimeter picaresque image of a 1850s horse race scene. It shows the crowds from the different sects of society - from a noble family to a prostitute.
The Derby Day presents a satirical panorama of modern Victorian life. When it was first exhibited at the Royal Academy in 1858, it proved so popular that a rail had to be put up to keep back the crowds.
Seen in the painting are a total of three main incidents. On the far left, a group of men in top hats focus on the 'thimble-rigger' with his table. In the centre is an acrobat and his son who looks longingly at a sumptuous picnic being laid out by a footman. Behind them are carriages filled with racegoers, including, on the far right, the mistress of a man leaning against the carriage.
The painting had been reportedly kept hanging in an unlocked New England beach hut for around 50 years. It was only recently that a friend of the owner suggested that it could be auctioned as it might be of some value.
At the Christie's auction, the painting was sold over to an anonymous bidder over the phone and at a price that set records for Frith's painting across the globe.
According to BBC, the anonymous vendor, now in his 60s, believes his parents bought the painting sometime before World War II, when Victorian art was not considered worthy by collectors.
The completed version of the painting can be found in London's Tate Britain gallery.
Frith, one of the greatest painters in British history, is also known for some other unique artworks like The Railway Stations, The Crossing Sweeper and A Private View at the Royal Academy.