A Palestinian artist has expressed his desire to work with Angela Merkel to help the refugees being welcomed into Germany. Alaa Minawi is aiming to sell his artwork to raise money for the German Chancellor in appreciation of her efforts to house Syria's fleeing refugees.
Minawi's artwork was first recognised at the Amsterdam Light Festival, held from November 2015 until January 2016. Not long after, the Palestinian visual artist began to receive phone calls requesting his display to be housed in cities across the globe. His latest piece, 'My light is your light', is currently on display in London as part of Canary Wharf's winter lights. The display represents a family of six Syrian refugees who are making the journey across Europe.
Speaking to IBTimes UK, Minawi said: "My art is talking about the fact that these people are just like us, like the British, like everyone. Europe has been through this in World War II. People were forced to leave their houses when they were bombed. So anyone can relate if they just think for a second. These things can happen to anyone and it did happen to everyone."
Minawi is a refugee himself, with his grandfather moving from Palestine to Lebanon in 1948. Minawi said that what the Palestinians went through had a lot of similarities to what the Syrians are now going through and it helped him to relate to the plight of the refugees now arriving in Europe. He spent three years working as a translator for Syrian refugees applying for asylum in the United States, during which he heard nearly 1,000 stories from refugees. Minwai said that listening to the stories changed his perspective on everything.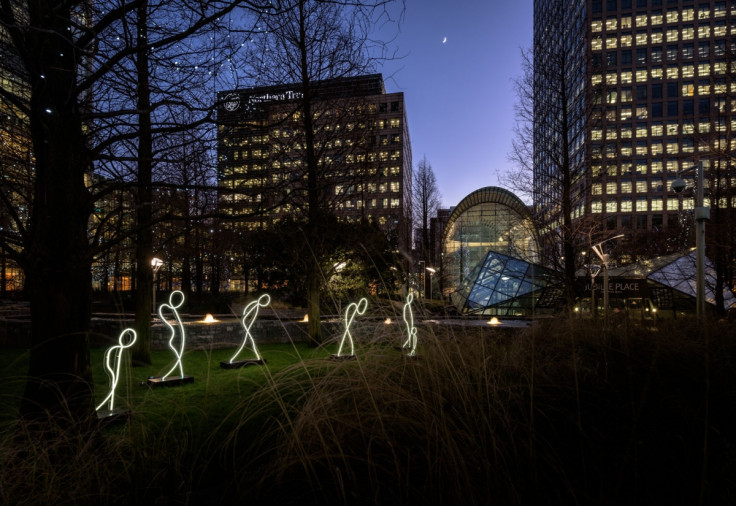 "Working as a translator was brilliant because when you have someone telling you what is happening with them and what they went through, it is the real thing," Minawi explained. "It was great to be able to hear what they had to say because you find out that in the news some things are over proportional and some things are really not talked about."
After receiving a lot of positive feedback about the art installation, Minawi decided that it wasn't enough to only spread awareness about the refugee crisis. In an attempt to help the refugees, he has decided to auction his art piece and wants to donate the money to refugees coming into Germany. He told IBTimes UK that he has emailed Merkel herself, as well as attempted to get in touch with the German Embassy in Beirut. He hopes that he will eventually be able to get through to her.
Minawi said: "Angela Merkel made the choice to help and to receive lots of refugees in her country, which was not an easy choice and which was not a popular choice. So this is some kind of a thank you and appreciation of the stand that she made."
Before auctioning the artwork, the 'My light is your light' piece is set to tour cities around Europe, with one of the planned sites expected to be a World War II bunker.
'My light is your light' will be on display in Canary Wharf until the end of March 2016.