"My children told me they wanted to die," Syrian refugee Rima tells IBTimes UK while she waits for the Berkasovo-Bapska crossing point in Serbia to reopen. Rima is travelling with her 8-year-old daughter Aya, her 12-year old son Ahmed, and her husband.
The family left Syria after their house was bombed and they travelled for days before they reached Serbia, where they had to sleep in the freezing cold as authorities closed the crossing point overnight. Exhausted, cold, and fearful, they simply want to cross into Croatia and continue their journey to Germany, where they hope they can start a new life free from violence.
Rima explains: "We travelled from Syria to Turkey and then to Greece by boat. We lost all our luggage in the journey and my children are exhausted, they don't want to walk anymore and they told me they wanted to die."
Rima then points at Aya, who has frostbite on her feet and is unable to walk: "She has been standing for 12 hours. She is ill, she is yellow now. We don't want to go back to Syria because there is a war there, but we are still suffering here."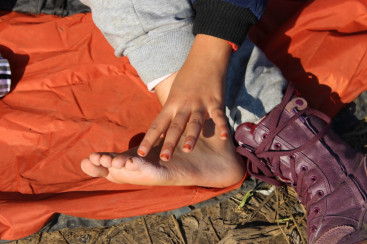 Rima and Aya are among thousands of refugees, mainly from Syria, who every day reach Serbia and hope to travel to the EU to start a new life free from war, persecution, and poverty.
Rights organisations have warned that refugees, whose journeys are negatively impacted by harsh weather conditions, are in urgent need of food, winter clothing, and adequate facilities. People could die as a result of spending long hours in the freezing cold.
In October, the UNHCR warned that thousands of refugees were stuck in swamp-like conditions between Serbia and Croatia, after Croatian authorities barricaded their border.
As the Berkasovo-Bapska crossing point is due to close soon, refugees are now being transferred from the border with Macedonia to the Šid train station, where they can board trains that will take them to the Croatian transit centre near the city of Slavonski Brod.
---
IBTimes UK travelled to Serbia courtesy of World Vision UK. Click here for more information about the World Vision UK refugee crisis appeal.