The relatives of some of those who perished at the World Trade Center in New York on 11 September 2001 have mounted a protest as unidentified remains were taken to the 9/11 Memorial Museum, where they will be stored in a special basement beneath the site. Some of the protesters tied black bands over their mouths and one held a sign saying "A Museum is not a Cemetery".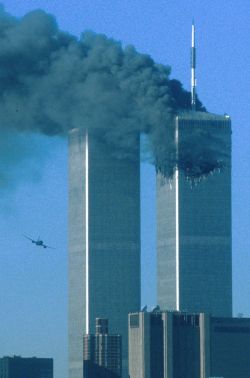 Rosemary Cain, who lost her son George, a firefighter, in the attacks, was deeply unhappy at the thought of any of her son's remains being stored in the same building as the museum, which opens to the public on 21 May.
"I don't know how much of him is down here," said Cain, "if it's one little inch, I want it treated respectfully. I want it above ground. I don't want it to be part of a museum. I don't want it to be part of a freak show."
Retired firefighter Jim Riches, whose son – also a firefighter – died in the attacks, said he was against storing the remains within the museum, telling the Associated Press: "Let us have a say! We are outraged and we will never rest until our loved ones, America's heroes, rest in peace."
However, other relatives thought storing the body parts close to the site of the attack seemed appropriate. Monica Iken, whose husband Michael Patrick perished, said: "They are finally home. We should be thanking God they are home in the right place. This is where they died. This is where they took their last step, their last breath."
Thirteen years after the attacks by al-Qaida in which almost 3,000 people were killed - including 2,753 at the World Trade Centre -1,115 victims have yet to be identified. The 7,930 body parts that had been stored at the Office of the Chief Medical Examiner will now be kept behind a wall in the museum basement on which is inscribed a quote by Roman poet Virgil: "No day shall erase you from the memory of time."