There cannot be a "political solution" in war-torn Syria unless President Bashar al-Assad is removed from power, US ambassador to the United Nations, Nikki Haley, said a day after the Donald Trump administration retaliated for the alleged chemical attacks by the Assad regime with a series of cruise missile strikes.
Her comments, made during an interview with CNN on Saturday (8 April), signal a turnaround from the earlier stance of the US that driving out Isis was a bigger priority in Syria than Assad's ouster.
"There's not any sort of option where a political solution is going to happen with Assad at the head of the regime. It just -- if you look at his actions, if you look at the situation, it's going to be hard to see a government that's peaceful and stable with Assad," Haley told CNN's State of the Union in an interview, due to air in full on Sunday (9 April).
A day before, defending the US strikes on a Syrian air base suspected of using chemical weapons, Haley warned the Assad regime of more strikes if it did not stop using chemical weapons against innocent civilians. Nearly 80 people died in Khan Sheikhoun town in the rebel-held northern province of Idlib on 4 April after Syrian planes allegedly carried out gas attacks, which the US said was the banned nerve agent sarin.
However, just days before the deadly gas attacks took place in Syria Haley had said that the US-led coalition wanted to focus on fighting Isis in Syria. "You pick and choose your battles and when we're looking at this, it's about changing up priorities and our priority is no longer to sit there and focus on getting Assad out," Haley told reporters on 30 March.
She told the news channel that removing Assad was not the US' only focus and "there's multiple priorities".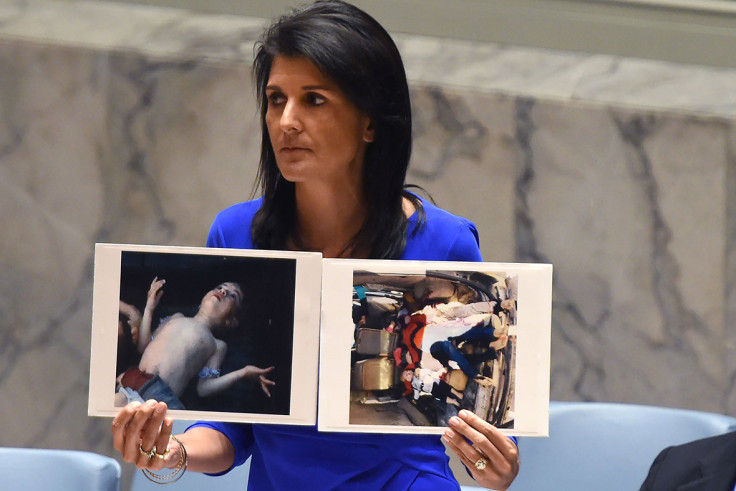 "...what we're trying to do is obviously defeat Isis. Secondly, we don't see a peaceful Syria with Assad in there. Thirdly, get the Iranian influence out, and then, finally, move towards a political solution, because at the end of the day, this is a complicated situation," she noted.
When asked if President Trump could order more air strikes against the Syrian regime, she said: "If he needs to do more, he will do more.
"So, really, now what happens depends on how everyone responds to what happened in Syria, and make sure that we start moving towards a political solution, and we start finding peace in that area."
Haley added that she thought a regime change was necessary in Syria because "all of the parties are going to see that Assad is not the leader that needs to be taking place for Syria".