The US has warned that it was prepared "to do more" strikes on Syria to stop the use and proliferation of chemical weapons but hoped it won't be necessary. The comments were made by the US ambassador to the United Nations, Nikki Haley, following a cruise missile attack on Friday (7 April) morning on a Syrian air base suspected of using chemical weapons against civilians.
The US action was triggered after more than 80 civilians – including 33 children – were killed in Syria's Idlib province in a recent chemical attack allegedly ordered by the regime of President Bashar al-Assad. It was suspected that the highly toxic nerve agent sarin was used in the attack, which also injured more than 500 people.
"The United States took a very measured step last night," Haley told a special UN session on Friday. "We are prepared to do more. But we hope that will not be necessary. It is time for all civilised nations to stop the horrors that are taking place in Syria and demand a political solution," she added.
Slamming Syrian ally Russia for its support to the Assad regime, Haley said: "Every time Assad has crossed the line of human decency, Russia has stood beside him.
"Assad did this because he thought he could get away with it. He thought he could get away with it because he knew Russia had his back. That changed last night."
Noting that investigations have confirmed that "the Syrian regime has used chemical weapons against its own people multiple times" in the past, she said that Russia "bears considerable responsibility" for Assad's use of chemical weapons.
The US strike against Syria was strongly condemned by Russia, which also threatened to cut cooperation with the Americans in the fight against terror in Syria. Russian envoy to the UN told the council that the US missile strike was "a flagrant violation of international law and an act of aggression".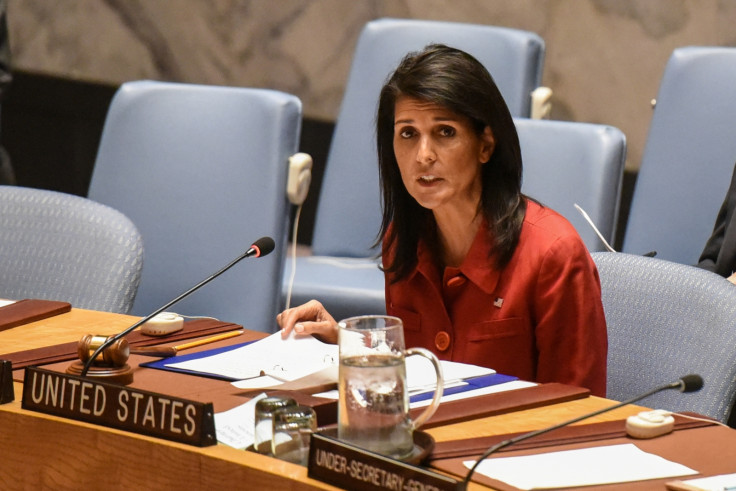 However, Haley defended the action, saying "there are times when states are compelled to take their own action." She added that preventing the use of chemical weapons and their proliferation is "our vital national security interest".
The US and its allies are meanwhile, preparing to press for a UN resolution condemning the Assad regime for the use of chemical weapons against innocent civilians, but Russia is likely to veto the motion.
Addressing the UN Council meeting, Syria's Deputy UN Ambassador Mounzer Mounzer reiterated the country's stand that they "would never use such weapons in any of its operations against armed terrorist groups".
"Let me stress that it is well known that those weapons have been used and stockpiled in many parts of Syria by terrorist armed organizations in cooperation or rather with a wink and a nudge by some ruling regimes in the region and outside, including Turkey, Saudi Arabia, Qatar and some European states," Mounzer said.
"They completely ignore all the facts and documented information on the use of chemical weapons by terrorists in many parts of the Syrian Arab Republic."