Leather-clad bikers, customised Harley-Davidsons, garish tattoos, Confederate flags, pole dancers, topless bars and prayer meetings. Welcome to the Republic of Texas Biker Rally. Now in its 20th year, the annual four-day party attracts around 35,000 bikers and as many as 200,000 spectators.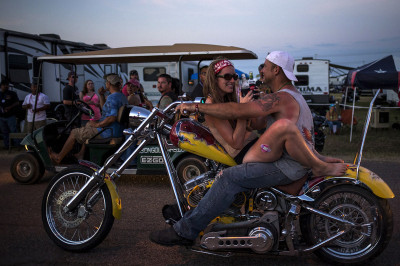 The Travis County Expo Centre on the outskirts of the Texan capital becomes a giant trailer park with the non-PC atmosphere you might expect when thousands of bikers throw a party.
Pole dancers gyrate among the motor homes, and a naked doll sits next to a sign reading: "Show me your tits". There's no shortage of women willing to do as instructed. A disapproving 2011 Austin Chronicle report lamented the lack of sisterhood: "Time to break out the halter top. By Thursday there should be 40,000-plus motorcycle enthusiasts rumbling into Austin. If you go a little extra slutty, maybe you can unseat one of their bitches."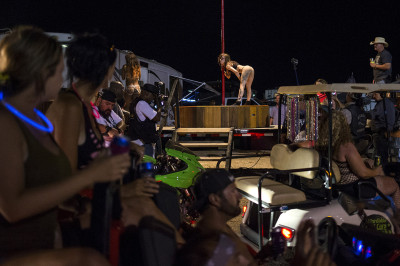 This year's event was held under heavy police presence after a fight among rival motorcycle gangs in Waco last month left nine people dead. This was the first major gathering of bikers in the state since the deadly fight, where gangs attacked each other with guns, knives, chains and clubs.
Many bikers at the rally had sympathy for those in Waco, saying they were motorcycle enthusiasts who got caught up with a few criminal gang members. For a few bikers, this year's rally was too subdued. "What happened in Waco ruined the party with all these cops hanging out," said Jesse Alvarez as he rode off.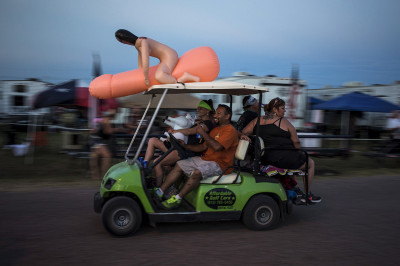 Members of the Bandidos, one of the groups implicated in the Waco incident and identified by the US Justice Department as an outlaw motorcycle gang, attended the Republic of Texas Rally. "It was peaceful. That's what people wanted," said a man in a Bandidos vest who asked not to be named.