Republican lawmakers have slammed Julian Assange on Wednesday (4 January) after President-elect Donald Trump seemed to have sided with the WikiLeaks founder rather than the US intelligence community. On Wednesday morning, Trump posted a series of tweets quoting Assange following the latter's Fox News interview, once again voicing doubt over Russia's alleged role in hacking the Democratic National Committee and other political organisations during the election campaign.
"Julian Assange said 'a 14 year old could have hacked Podesta' - why was DNC so careless? Also said Russians did not give him the info," Trump tweeted. During the interview, Assange maintained that the damaging documents steadily published by the whistle-blowing site during the race to the White House did not come from the Russian government or a "state party".
In a separate tweet, Trump quoted Assange who, during the interview with Sean Hannity at the Ecuadorean embassy in London, described the US media coverage on the matter as "very dishonest". Trump also noted: "More dishonest than anyone knows."
Speaking to conservative radio host Hugh Lewitt, House Speaker Paul Ryan called Assange a "sycophant for Russia" who "leaks... steals data and compromises national security". However, he declined to comment on Trump's tweets.
"The last thing I'm going to do is start commenting on every little tweet or Facebook post. That is just not what I do with the president-elect or when he's president."
"I think he has not yet received his Russia briefing yet. I believe that is scheduled for Friday, so hopefully he'll get up to speed on what has been happening and what Russia has or has not done. And he'll be better informed on that."
Trump has continued to express scepticism over Russia's involvement in the hacking of the DNC and Hillary Clinton's former campaign chairman John Podesta's personal account. US intelligence agencies including the FBI and the CIA believe that Russia directed the cyberattacks in an effort to interfere in the presidential election and sway the outcome in Trump's favour. In October, the White House formally accused the Kremlin of orchestrating the attacks and attempting to meddle in the elections.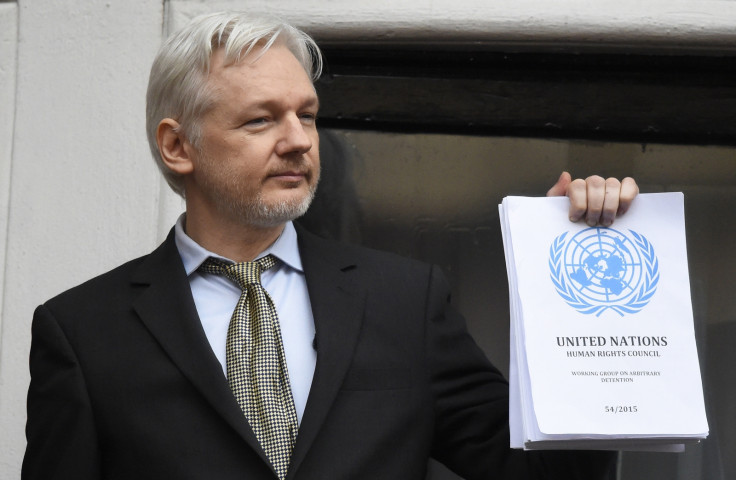 Top intelligence agencies will brief President Barack Obama on Russia's alleged role in any cyberattacks during US presidential elections on Thursday, ABC News reports citing US officials. Trump will receive his briefing in New York on Friday. Officials familiar with the classified report said an unclassified version will be released to the public on Monday, the same day that Congress will get its classified briefing, the publication reported.
On MSNBC, Senator Tom Cotton said: "I have a lot more faith in our intelligence officers serving around the world, very smart and experienced analysts that we have here in the nation's capital, than I do in people like Julian Assange."
Senator Lindsey Graham also called Trump's citing of Assange to express his doubts over the issue "very disturbing".
"Mr. Assange is a fugitive from the law, hiding in an embassy, who has a history of undermining American interests," Graham said on CNN's At this Hour. "I hope no American will be duped by him. You shouldn't give him any credibility."
Graham added that he hopes Trump "will get his information and trust the American patriots who work in the Intelligence Community who swear oaths of allegiance to the Constitution and not some guy hiding from the law who has a record of undercutting and undermining American democracy".
Back in 2010, multiple leading Republicans called for Assange to be imprisoned after WikiLeaks published thousands of classified military documents and diplomatic cables leaked by former Army analyst Chelsea Manning. However, not all Republican figures have expressed criticism of Assange.
Following Assange's interview, former Alaska Governor and Trump supporter Sarah Palin praised Assange in a Facebook post on Wednesday, saying she regretted her attacks on Assange in 2010 after WikiLeaks leaked her "infamous" and "relatively boring" emails.
"I think the real question that looms is a question that's been raised by some of the public comments or tweets from the president-elect, which is just simply: Who are you going to believe?" Obama spokesman Josh Earnest said, USA Today reports.
"On one hand you've got the Russians, and the aforementioned Mr Assange. On the other side, you've got the 17 intelligence agencies of the United States government, outside cyber experts that have taken a look at the situation, you've got Democrats on Capitol Hill, you've got Republicans on Capitol Hill, and at least one adviser to Mr. Trump expressing concern about Russia's malicious activity in cyberspace in the context of the election."