Congressional Republicans aim to force the confirmation of retired general, James Mattis, as Donald Trump's defence secretary by linking his appointment to the spending bill to avoid a government shutdown.
Republicans struck a deal on a short-term spending bill that simplifies the path for the Senate to confirm Mattis and provides funds for Flint, Michigan.
The stopgap bill would give Trump until 28 April 2017 to draft a long-term spending bill, the Washington Post reported. Republican leaders hope the House will approve the bill on Thursday (8 December), giving the Senate a day to pass the legislation to avoid a government shutdown on Friday (9 December).
"This legislation is just a band-aid, but a critical one, said House Appropriations Committee Chairman Harold Rogers, a Republican from Kentucky. "It will give the next Congress the time to complete the annual appropriations process, and in the meantime, take care of immediate national funding needs."
The bill includes a measure that would speed Mattis' confirmation by fast-tracking legislation to grant him a waiver to join Trump's Cabinet, Politico reported.
Congress must pass a special exception passed for Mattis to allow him to skip a requirement that dictates former military officials must be out of service for seven years before becoming secretary of defence. Mattis retired in 2013.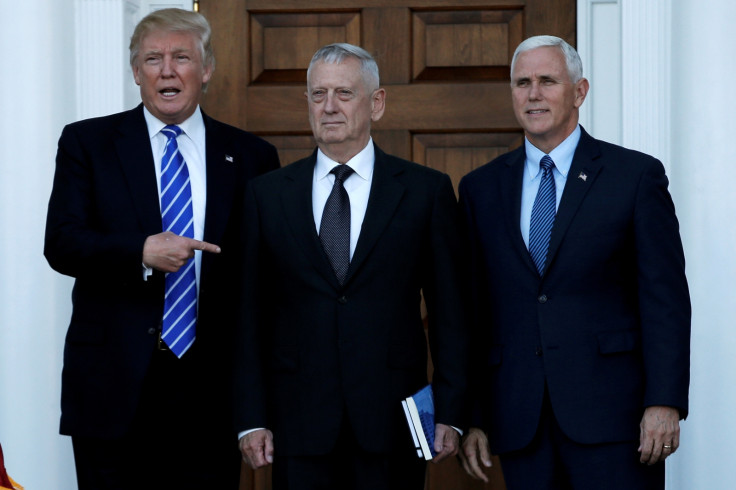 Incoming Minority Leader Chuck Schumer of New York noted that Republicans should not have included the provision in the spending bill. Schumer noted that changing the chamber's rules in spending legislation has "never been done before."
According to Politico, the procedure for Mattis' waiver would limit debate in the Senate to 10 hours and require 60 votes for passage. The waiver bill can be introduced by Senate Majority Leader Mitch McConnell or Senate Armed Services Chairman John McCain within the first 30 days of the new Congress. The bill would be referred to the committee and if not acted on within five days would go to the Senate floor.
Republicans noted that the measure would allow the Senate to confirm Mattis as soon as Inauguration Day on 20 January. "The quicker we get the issue resolved, the quicker the guy can get confirmed and the quicker the guy can go to work," McCain said in an interview.
The Washington Post noted that the spending bill also includes a $170m (£134m) in funding for the water crisis in Flint, Michigan and $7m (£5.5m) to reimburse the New York City Police Department for overtime costs associated with protecting the president-elect while he lives in Manhattan. Democrats argued, however, that the amount allotted to the city only covers a fraction of the estimated $35m (£27.6m) it will cost to protect Trump and his family between 9 November and 20 January.