Rescuers race against time to save pilot whales stranded off Isle of Skye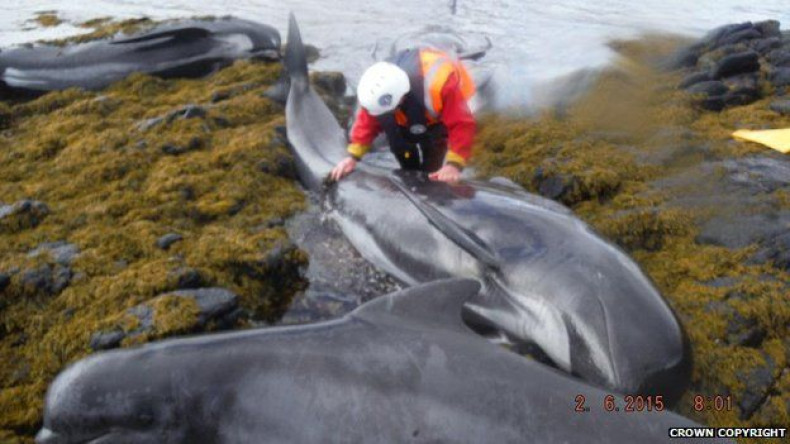 Rescuers are struggling to save a pod of long finned pilot whales which became stranded on a beach on Staffin Island north of the Isle of Skye.
The pod was first spotted off Staffin at 4.40pm on Monday (1 June). It's thought that the whales became stranded when a female which was calving got into difficulties.
Of some 21 whales stranded initially, 18 were refloated by rescuers including members of the public but 10 then became stranded again. So far nine are believed to have died.
Rescuers from the British Divers Marine Life Rescue (BDMLR) are trying to save the remainder, but are having problems because of the location of the stranding. The whales are in particular discomfort because they are stranded on rocks, making it hard to relieve the pressure on their bodies.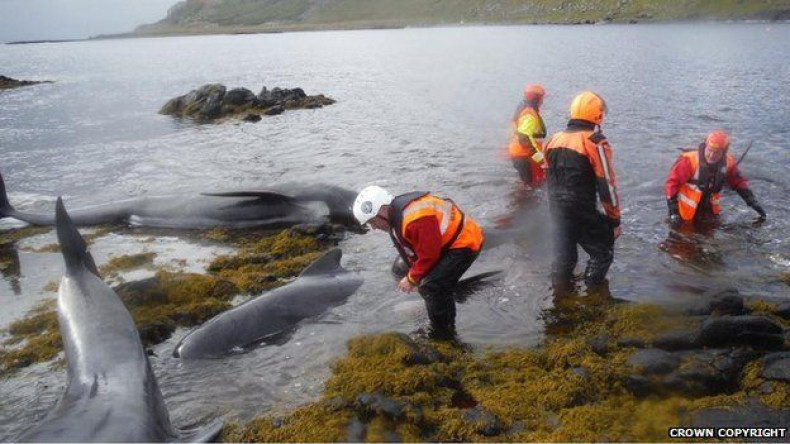 Stephen Marsh, BDMLR operations manager, said: "The team were able to re-float 18 and one, a pregnant female, was put in pontoons ready to re-float but sadly the calf was discovered to be already dead by a local vet attending the rescue.
"As this female would sadly not survive, a local marksman was been called by the vet and she was humanely euthanised."
Environment Secretary for Scotland Richard Lochhead said: "I am very concerned to hear about this stranding of pilot whales on Skye.
"Marine Scotland and BDMLR are currently working hard to alleviate the situation.
"We have a patrol vessel and other staff on site and I am being kept informed of the situation.
"Sadly it appears that some of the whales have already died and the situation is becoming increasingly difficult as the outgoing tide is leaving the stranded animals out of the water."
Pilot whales can measure up to 20 feet in length and weigh up to three tons. They are the world's deepest diving mammals, living mostly on squid. Members of the dolphin family, they are very intelligent, but due to their sociable nature mass strandings are common.
In February hundreds of pilot whales died after being stranded on a beach in New Zealand. In 2011 25 out of 70 stranded whales died at the Kyle of Durness in Scotland.