Resort towns evacuated as wildfires tear through Tennessee Smoky Mountains park
Compulsory evacuation orders are in place in the resort town of Gatlinburg.
The Tennessee mountain resort towns of Gatlinburg and Pigeon Forge were evacuated after wildfires swept through the Great Smoky Mountain National Park Monday night.
Fire crews battling to contain up to 14 blazes were hindered by wind gusts of up to 70mph, with Gatlingburg Fire Department ordering the compulsory evacuation orders as the fires became increasingly dangerous and unpredictable.
According to Reuters, the flames grew from 10 acres on Sunday night into a 500-acre blaze on Monday.
Roads leading from the towns are reportedly chocking as people flee, with emergency services urging people to refrain from using mobile telephones unless necessary to prevent lines blocking for those needing to make emergency calls.
A hotel in the town and around 30 structures in Gatlinburg are engulfed in flame, said authorities. Fires have sparked numerous fires in the town from downed power lines, said authorities.
No injuries have so far been reported.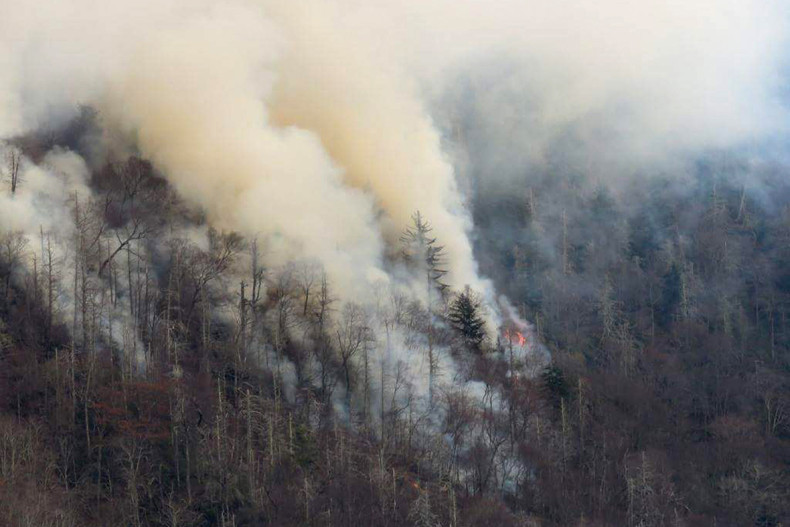 Among the numerous attractions in the Gatlinburg is Dollywood, the theme park owned by country singer Dolly Parton. An aquarium housing thousands of animals is also reportedly threatened.
Pete Owens, spokesperson for Dollywood, told USA Today late on Monday (29 November) that no structures inside the park had been damaged, and guests had been evacuated from some of its properties. Fire crews in the park were standing by if needed to protect the buildings.
The aquarium housing 10,000 animals is still standing and workers have been evacuated, but "workers are anxious to return to check on the animals", the general manager of Ripley's Aquarium of the Smokies, Ryan DeSears told local media.
The Great Smoky Mountain national park sent out warnings on social media to avoid the area.
There are fears an approaching storm could further fuel the flames, and topple trees, posing a threat to firefighters.
The neighbouring states of North Carolina and Georgia are also battling wildfires after months of drought.