A Nashville man was found in bed with stolen mannequin from an adult novelty store, claims police. Christoper Wade, who appeared to be drunk, had allegedly stormed into the store, grabbed the mannequin and ran out, knocking off the dummy's left arm in the process.
An employee told police that she had argued with the 55-year old in the parking lot for several minutes until he threw the mannequin into the back of his white Toyota Tacoma pickup truck and drove away.
Wade was found hours later in bed snuggled up to the stolen mannequin. Police were able to trace the man, after tracking his license plate number, which was recorded by the employee.
The mannequin (pictured below) had been wearing a spandex dress, rhinestone stilettos and a brown bob wig at the time. It was recovered with all the merchandise.
The store manager estimated the mannequin was worth about $3,900 (£3,000), which does not include the price of the items it was wearing.
The adult novelty shop, called Hollywood Hustler, which sells sex toys as well as lingerie, is open every day until 2am. Police say Christopher Wade went to the Hollywood Hustler store just after midnight on 4 July.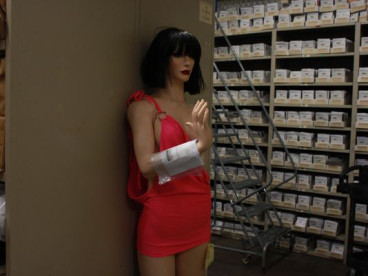 Wade had been arrested on charges including theft and trespassing. He is currently jailed on a $11,000 (£8,500) bail and could face up to 12 years in prison if convicted.
Lingerie is a hot commodity for some bandits. In December 2014, a Chinese lingerie thief was caught after his ceiling collapsed under the weight of his pilfered undergarments. He had stolen around 2,000 sets from women in Yulin city, Guangxi province, over the course of a year.
An Israeli man had also been arrested for smuggling dozens of women's undergarments into Palestine in January 2013.