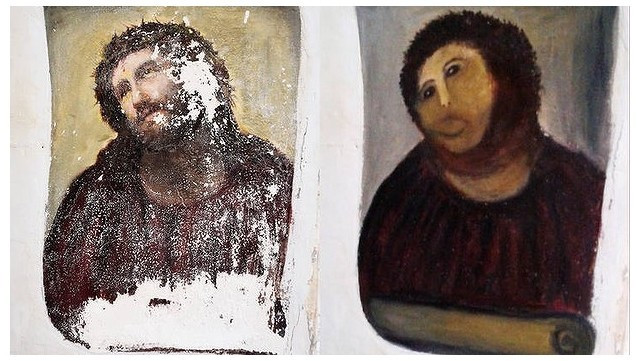 The clumsy Spanish restoration artist who ruined a fresco of Christ is now demanding royalties for her work, as the botched restoration has become a tourist attraction.
Cecilia Gimenez, a 80-year-old pensioner, volunteered to restore the Jesus oil fresco painted in 1910 by Spanish artist Elias Garcia Martinez in the Misericordia Church in Borja, north eastern Spain.
However she managed to turn a depiction of Christ called Ecce Homo (Behold the Man) into a mix between a sloth and a hairy monkey.
Photos of her awful do-it-yourself restoration soon went viral on the internet.
Soon tourists started to put Borja on their Spain trip schedule to look at Gimenez's handwork.
Low cost airline Ryanair offered special fares to the nearby town of Zaragoza. As visitors to the church spiralled into the thousands, church officials decided to put in place a €4 entry fee.
"For every 20 people who come, only one gives a donation so we decided to charge," church official José Maria Aznar told The Times.
In four days the church collected €2,000 (£1,600) and Gimenez is now claiming her share.
"She just wants (the church) to conform with the law," said her lawyer Enrigue Trebolle. "If this implies an economic compensation, she wants it to be for charitable purposes."
According to the lawyer, Gimenez wants to donate the money to charities for muscular atrophy, a condition affecting her son.
Meanwhile the first exhibition dedicated to the infamous restoration has opened in Barcelona.
Collaborative art project Wallpeople is displaying famous works from artists like Andy Warhol and Gustav Klimt restyled in a "respectful and friendly tribute" to Gimenez's handwork.