Rex Tillerson wraps up Asia tour on high note following meet with Xi Jinping
Chinese president calls for boosting relations between Washington and Beijing.
US Secretary of State Rex Tillerson wrapped up his six-day Asia tour on a high note after holding talks with Chinese President Xi Jinping. In a sign of improving relations between the two countries, the duo agreed to enhance their working relationship on global platforms.
Tillerson said Washington is keen on holding the first meeting between US President Donald Trump and Xi and insisted that the American leader places a "very high value" in directly talking to Beijing. Although reports suggest that Trump and Xi could meet in April there is no official confirmation as yet.
Tillerson, an untested diplomat with no previous experience, was on his final leg of the Asia tour, which earlier took him to South Korea and Japan – two closes allies of the US. However, dealing with China amid threats emerging from North Korea and bitter territorial assertions could prove to be a diplomatic challenge.
Xi told the visiting secretary: "We should properly handle and manage sensitive issues to promote the healthy and stable development of Sino-US relationship from a new start," adding that the cooperative relationship between the two big economies is "the only correct option".
He added: "We both believe that China-US cooperation henceforth is the direction we are both striving for. We are both expecting a new era for constructive development. The joint interests of China and the United States far outweigh the differences, and cooperation is the only correct choice for us both."
In stark contrast to Trump's combative character when it came to addressing China in his presidential campaign, Tillerson struck a much softer tone during the meetings.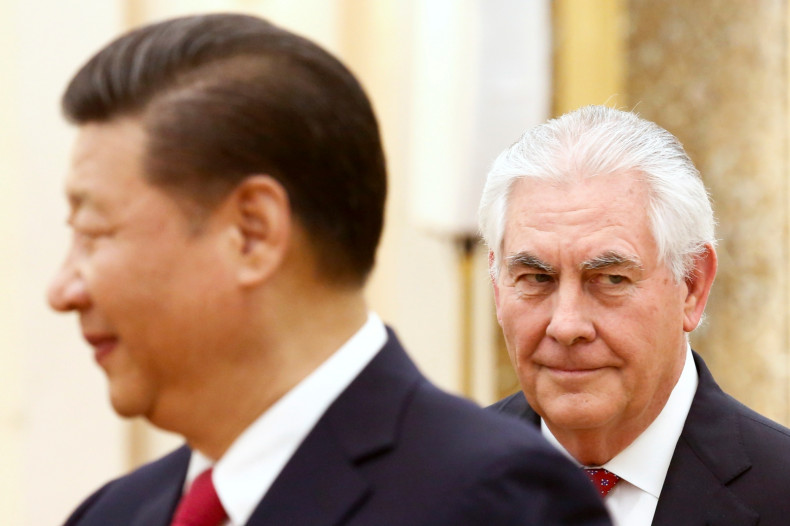 On his part, Tillerson responded by saying: "He [Trump] looks forward to enhancing that understanding in the opportunity for a visit in the future. We know that through further dialogue we will achieve a greater understanding that will lead to a strengthening of the ties between China and the United States, and set the tone for our future relationship of cooperation."
Tillerson earlier held talks with Foreign Minister Wang Yi as well.
No thorny issues such as intensifying pressure on North Korea or the Trump administration's proposed arms package to Taiwan – a region that Beijing considers its own territory – were discussed by the two world leaders.