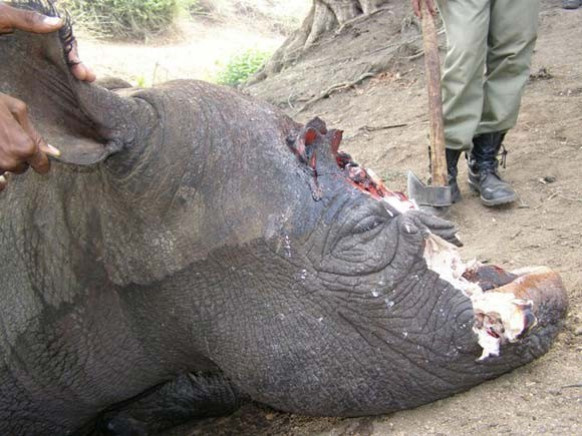 The last known rhinoceroses in Mozambique have been killed by poachers - and South Africa has warned that it may erect new fences between the countries' wildlife reserves to stop cross-border incursions of smuggling gangs.
Wildlife authorities believe poachers operating within Mozambique's Limpopo National Park tracked and killed the last 15 rhinos in April, helped by poorly paid game rangers who were susceptible to corruption.
According to Limpopo park director Antonio Abacar, the last sighting of a living rhino was made in January. He said that 30 of the park's game rangers colluded in the species' extinction. They are due in court charged with helping the poachers.
Kelvin Alie, from the International Fund for Animal Welfare, told the Daily Telegraph that the latest rhino slaughter "speaks volumes about the deadly intent of the wildlife trade".
"The poachers will stop at nothing to get to their quarry," he said.
Alie added: "It is tragic beyond tears that we learn game rangers have now become the enemy in the fight to protect rhino from being poached for their horns."
The Limpopo National Park is part of the Great Limpopo Transfrontier Park, a 7,700 sq m nature reserve which also straddles South Africa and Zimbabwe. About 300 rhinos were thought to live within the boundaries of the Transfrontier Park when it was established 11 years ago.
Weakest line of defence
The Great Limpopo reserve also encompasses South Africa's world-famous Kruger Park, in which 180 rhinos have been killed so far in 2013. Jo Shaw, of the World Wide Fund for Nature, said the problems in Kruger were largely attributable to poachers from Mozambique, where punishment for poaching is far more lenient.
Shaw said: "Rhinos being killed in Kruger are mostly by Mozambican poachers who then move the horns out through their airports and seaports. With huge governance and corruption issues in Mozambique, it's a huge challenge."
South African National Parks (Sanparks) chief executive David Mabunda described the battle against poaching as a "war situation". He claimed the national boundaries which lie within the Great Limpopo reserve provide "the weakest line of defence against incursions".
Members of the South African army and police have killed 279 Mozambican poachers in the last five years, and officials have said they would resurrect the old anti-poaching fences if Mozambique did not adopt a tougher line against those who kill animals for commercial gain.
South Africa's environment minister, Edna Molewa, is due to meet her counterpart in Mozambique within the next few weeks to discuss the problem and map out potential solutions.