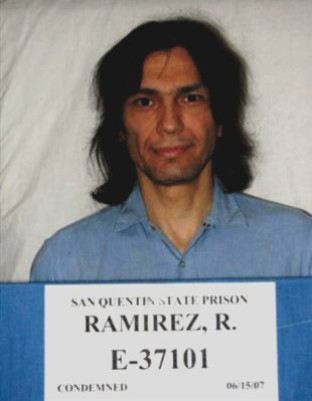 Richard Ramirez, an American serial rapist and murderer, died on Friday 7 June at the age of 53 after being on death row for 24 years.
Also known as 'The Night Stalker', Ramirez was convicted for a string of brutal crimes in the mid-1980s. He died in hospital of unknown causes. A San Quentin spokesperson reportedly told media he died of natural causes but TMZ claims a prison official pointed to Hepatitis C. The Mail Online reports liver failure as the cause of death.
Ramirez's crimes included 13 murders and 11 sexual assaults and he was also convicted of rape, sodomy and oral copulation. His death sentence was repeatedly postponed by a string of appeals.
Ramirez left overt satanic signs and details at the scenes of his crimes. The Night Stalker entered people's homes through unlocked doors and windows and his victims ranged from nine-year-old children to 83-year-old seniors.
One such crime was the attempted murder and rape of Bill Carns and his fiancée. The incident occurred on 25 August, 1985. He shot Carns in the head and forced his fiancée to swear her love for Satan during the attack.
Despite his horrific record, The Night Stalker was arrested for trying to steal a car. The mob that gathered nearly beat him to death; he was recognised after police released his photograph to the public... on that very day.
During Ramirez's first appearance in court he flashed a pentagram tattoo on his palm and yelled "Hail, Satan". The Night Stalker's brutal record stirred up attention all across the world and, bizarrely, he began acquiring a number of female admirers. Some attended his trial and others sent him love notes.
Ramirez married one of his fans - a freelance editor called Doreen Lioy - in 1996, in a visiting room at San Quentin.
"He's kind, he's funny, he's charming," she told CNN the following year, while protesting his innocence, "I think he's a really great person. He's my best friend; he's my buddy."
As for Ramirez himself, in 1989 he told the courtroom: "I am beyond good and evil. I will be avenged. Lucifer dwells in us all."