Ricky Gervais backs animal rights charity to shut down China's Yulin dog meat festival
Comedian Ricky Gervais is supporting an animal rights group to shut down China's Yulin dog meat festival this week, which sees at least 10,000 dogs killed and slaughtered every year.
The Humane Society International Rescue believed the controversial event would be cancelled following international outrage last year. But it seems preparations for a mass dog slaughter are still going ahead on 22 June.
The charity is now asking supporters including Gervais to sign its petition to China's Guangxi Party Secretary Peng Qinghua to abolish the cruel dog and cat meat trade.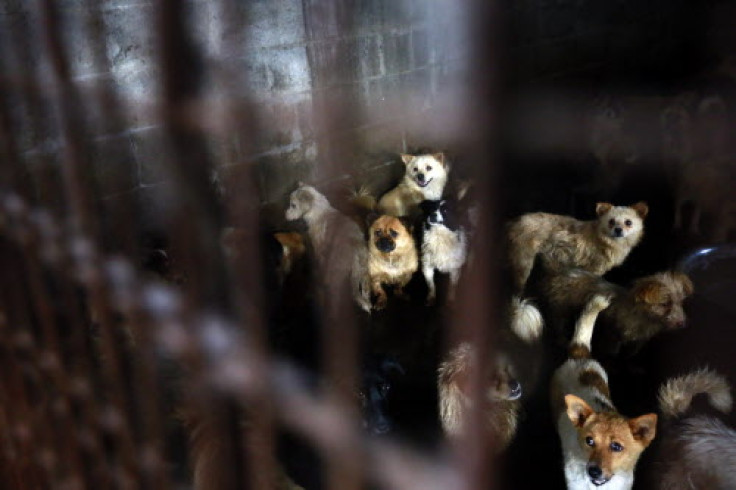 Moved by the charity's video, the TV star, wrote: "My friends at Humane Society International are working tirelessly to end this cruel trade all over Asia, and they desperately need your help.
"I've seen the footage that HIS has captured on video, and it breaks my heart. I will never forget the look of bewilderment and fear on the faces of these poor animals – the dogs and cats await a horrible fate. No animal deserves to be treated like this."
Thousands of stolen dogs are caught and transported over long distances in terrible conditions to Yulin, a city in China's Guangxi province. The festival is seen by dog meat traders as a way to boost business.
HSI's China specialist Peter Li said: "I often hear people say that we shouldn't interfere with tradition, but it isn't Chinese tradition to brutalise animals in this way. Eating dog meat hasn't been considered fashionable or decent in China for more than a thousand years.
"I utterly reject the dog and cat meat trade and welcome the international attention it receives."
© Copyright IBTimes 2023. All rights reserved.