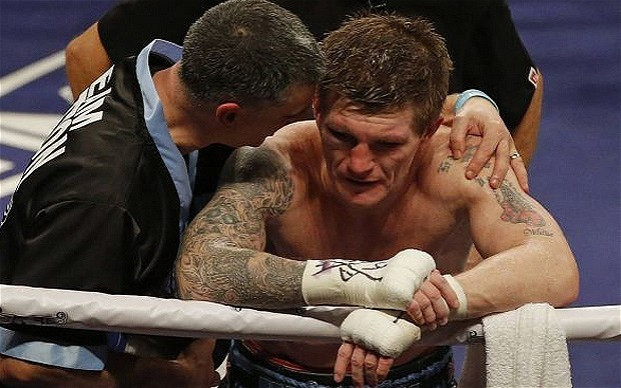 When Ricky Hatton walked away from boxing for the first time it was a significant moment in his life. The ramifications of this decision would leave him questioning his desire to live as he battled against depression and found himself entangled in the world of drink and drugs.
A decision to return to the ring, first as a trainer and later once again as a professional fighter, gave Hatton the emphasis he needed to get his life back in order. Having shed more than four and a half stone, the decision was made to look for one more shot at redemption.
He had been haunted by the memories of knockout losses to Floyd Mayweather and Manny Pacquiao. Yet there were always excuses and reasons for him to believe he could still compete at the highest level. These were two elite fighters, two of the best pound-for-pound fighters in the world.
Hatton would decide to return to the ring against former world champion Vyacheslav Senchenko and the stage was set for the fairytale comeback. There were mentions of world title fights in the very near future as 19,000 fans crammed into the Manchester Arena , hoping for a fight to rival the memorable night in 2005 when 'The Hitman' destroyed Kostya Tszyu to win his first world title.
For four rounds it all looked so good as Hatton's superior work rate led to him taking a comfortable lead on the judges' scorecards. But something was wrong, the timing wasn't there and there seemed a lack of bite in his punches.
In the ninth a crushing body shot, that Hatton would have been proud to deliver, caused him to take to the canvas. As the referee's count reached seven, the crowd urged their returning hero to muster one last bit of energy. He was ahead on all three scorecards and if he could just weather the storm he could win this fight.
Unfortunately there was nothing left. Hatton erupted into floods of tears as his dream was once again crushed. There was a sense of shock from the crowd and within an hour we had the answer to the question on everyone's lips - was this the end?
Hatton emerged to the gathered press and confirmed that it was over. The sensational career that had witnessed unforgettable nights from Manchester to the MGM Grand in Las Vegas was once again brought to an end.
The question now was would Hatton return to the life of drink and drugs, or could he finally find salvation in a defeat? Fortunately the 34-year-old would reassure everyone that things would be different this time round. Despite losing he was genuinely happy and glad that he had given it one last try. As a fighter he knew during the contest that it simply wasn't there anymore. He had laid his demons to rest.
"I needed to have one more fight to put the ghosts and the demons to bed. If you're looking for excuses you can always find them, under the bed or in a cupboard. But the top and bottom was that I wanted to find whether I've still got it, and I haven't," said Hatton who was visibly hurt, both physically and emotionally.
"A fighter knows - and I knew. It wasn't there any more. Too many hard fights. I've burned the candle at both ends. I lost 4½ stone for this fight. I've put my body through the mire for it. Everyone said I was winning the fight for four rounds - but I knew. And I'm not going to put myself through that torture again.
"But I've no complaints. I can look in the mirror and be proud of myself and say I gave it my best."
"I'm not going to put Jennifer and my loved ones through it again. I've got to be a man and say it's the end of Ricky Hatton."
Knowing when to finally call time on your career is never easy. For boxers who have fought at the very highest level it is nigh on impossible to turn down the adrenaline that comes from entering the ring. It is a drug that is hard to replace and the reason that so many greats tarnish their legacy by continuing long best their best days.
Thankfully Hatton had a moment of clarity in the ring. He knew that it was time to finally end a boxing career that has placed him on a list of the all-time great British fighters.
Hatton can safely be mentioned in the same breath of Lennox Lewis, Joe Calzaghe, Chris Eubank, Nigel Benn and Prince Naseem Hamed, whose legacies have been secured from their incredible achievements in the ring.
When he defeated Tszyu he said that he wanted to be a remembered as a great champion. After 15 years and 45 wins it is safe to say that Hatton has realised his dream. There's only one Ricky Hatton.