Fans will be disappointed to learn that Rihanna has postponed her Anti world tour. The Work singer had been due to launch the jaunt on 26 February with the North American leg but a source claims production issues means it has to be pushed back by two weeks. The news comes just days after RiRi was forced to cancel her performance at the Grammys due to illness.
According to Billboard, the Anti world tour will now commence on 12 March in Jacksonville, Florida. The 27-year-old had been due to perform in San Diego, Houston, Austin, Dallas, Atlanta, Phoenix, New Orleans, Oakland and San Jose but those dates are now scheduled to take place in May. Although an official reason for the cancellation has not been provided by the singer's team, E! News claims problems with the production of the tour are to blame.
Just days before the news broke, Rihanna pulled out of her performance at the Grammys in Los Angeles at the last minute, with reports stating she had been given doctor's orders to go on vocal rest. It is said the Diamonds hitmaker has been suffering with a bout of bronchitis and the antibiotics she was taking failed to clear it.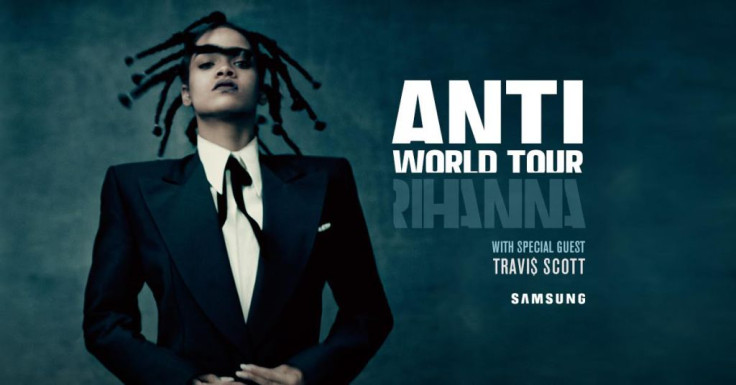 A rep for Rihanna said in a statement: "Based on Rihanna's examination, after Grammy rehearsal today, Rihanna's doctor put her on vocal rest for 48 hours because she was at risk of haemorrhaging her vocal chords. The antibiotics she has been on for three days did not kill the infection adequately therefore she cannot perform safely."
RiRi has not addressed the tour cancellation but she did tweet after cancelling the Grammys: "#NAVY so sorry I couldn't be there ..... Thanks Grammys and CBS for your support tonight."
The 66-date tour is in support of Rihanna's eighth studio album Anti, which reached number one on the US Billboard 200 chart earlier in February. The record was certified platinum within 14 hours of its release after notching up more than 13 million streams on music service Tidal, where it was initially available before being shared with Spotify and Apple Music.
Full list of Rihanna's Anti tour UK dates
June 14 – Coventry, United Kingdom – Ricoh Arena
June 16 – Cardiff, United Kingdom – Cardiff Stadium
June 18 – Sunderland, United Kingdom – Stadium Of Light
June 21 – Dublin, Ireland – Aviva Stadium
June 24 – London, United Kingdom – Wembley Stadium
June 27 – Glasgow, United Kingdom – Hampden Park
June 29 – Manchester, United Kingdom – Emirates Old Park
Listen to Rihanna and Drake's Work: