Rihanna music videos: Evolution of singer's darkest visuals from Russian Roulette to Needed Me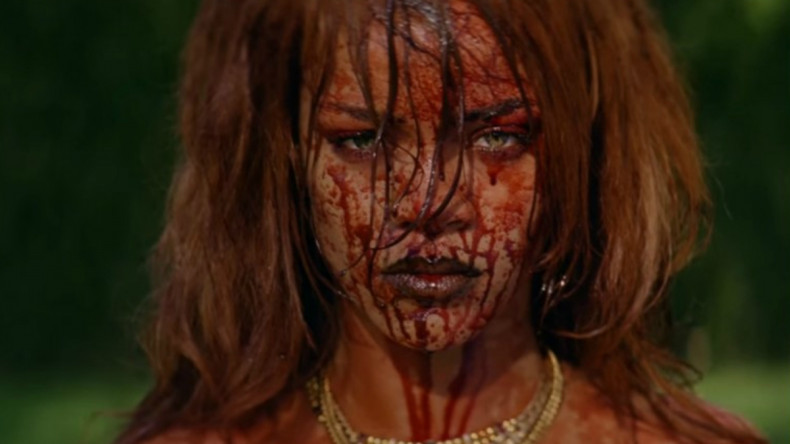 Rihanna raises the bar of creativity with every music video she releases but there appears to be a common theme in most. While busy on her Anti world tour, the pop star premiered the visuals for her latest single Needed Me on 20 April and near-nudity and violence are aplenty. It is pretty dark but as history shows, actually fairly standard for a RiRi music video.
The Harmony Korine-directed video features RiRi admiring a beautiful view dressed in a sheer robe with her breasts and nipples exposed. In a shocking turn of events, the singer then brandishes a gun before heading to a strip club where she shoots a man dead. The lyrics are just as fierce with RiRi singing: "But baby don't get it twisted, you was just another n***a on the hit list/ Tryna fix your inner issues with a bad bitch, Didn't they tell you I was a savage?"
Watch Rihanna's Needed Me video:
The visuals are a stark contrast to the singer's Work video, which was directed by X and features her twerking up a storm with her collaborator and on/off real-life love interest Drake. Video producer Melina Matsoukas, who has worked extensively with Rihanna in the past, once said: "I think the more provocative it is the more she responds to it."
Well, that explains it all. As RiRi's videos delve deeper into dangerous territory, IBTimes UK takes a look at the progression of Rihanna's darkest visuals through the years.
Russian Roulette
Russian Roulette featured on Rihanna's Hard album, released just months after she was assaulted by then-boyfriend Chris Brown and channelled a moodier sound. Scenes from the accompanying video include RiRi standing in a padded room and tempting fate by playing Russian roulette with a gun.
Describing the video as "visually challenging", the video's director Anthony Mandler told MTV News in 2009: "I think our objective was to run down our lane with it and to step out of the drama and the gossip. To get deeper and be more symbolic."
Disturbia
The theme of Disturbia is certainly in the title. RiRi is seen cavorting around a cell with white-coloured eyes, dancing around in front of flames and writhing as though she is in pain. One scene even shows the singer with her arms stuck in a wall.
S&M
The video for S&M was so raunchy that it had to be banned in some countries in 2011. Imagery depicts bondage, transvestites and spanking but would you expect anything less from a song titled S&M? Defending the nature of the video, RiRi told Rolling Stone at the time: "I love to be tied up and spanked. I like to take the reins in my life, but I enjoy being submissive in the bedroom. In there I can be a little lady and have a male who has responsibility for the situation. That's sexy."
We Found Love
Directed by Matsoukas once again, the video for RiRi and Calvin Harris' We Found Love is believed to be based on her ill-fated romance with Chris Brown, showing the deterioration of a fairy-tale love turned toxic.
Matsoukas told Vibe magazine in 2011 of the shoot: "She read the treatment and loved it. What I thought was funny was when we were on set and she said, 'I didn't realise until yesterday that I actually have to play this character. I read the scene and I'm like this is hot, but then it just hit me like oh s**t I'm the one who has to play this out!'"
Bitch Better Have My Money
Before Needed Me, Bitch Better Have My Money held the title as Rihanna's most violent video to date. The seven-minute mini-movie stars Eric Roberts and Mads Mikkelsen and sees RiRi embark on a violent rampage. The singer kidnaps a woman and leaves her swinging naked from a ceiling before holding her boyfriend captive and strapped to a chair. Elsewhere in the lengthy clip, a bloody-faced RiRi gets to grip with some interesting choice of weapons including a chainsaw and large knife.
Addressing the graphic nature of the visuals, RiRi told NME in 2015: "I wanted people to feel like they'd got more than they'd expected. But not in a shocking way – in the sense of, 'Wow, this is a real mini-movie'. You know? I wanted to go deeper. Mostly what I wanted was for people to get it. Well I mean now we're reaching. I didn't think about anything that had to do with that. Wow. And at the end of the day the women won. The bitch was the man. So I'm confused."