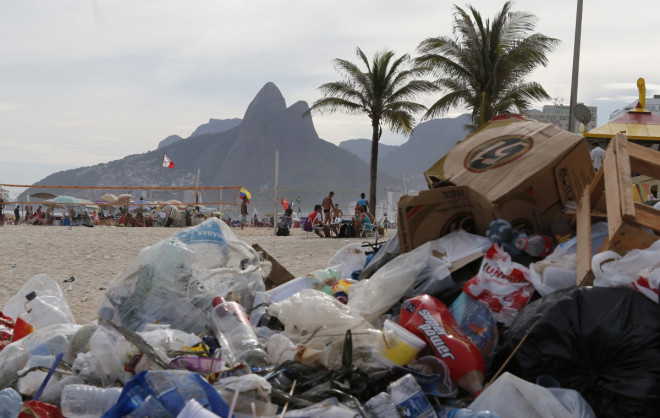 Even as the 2014 Rio Carnival ended with some of the memorable parades, a smelly hangover of the festivity has gripped the city dwellers.
Having witnessed the final Banda de Ipanema march, the Parade of the Children's Samba Schools and the Gay Costume Ball on the last day of Carnival on Fat Tuesday, residents of Rio de Janeiro woke up to filthy and stinky streets.
Mounting household garbage and heaps of party refuse remain uncollected since the Carnival because of a trash collectors' strike that coincided with the time of the annual festival.
Garbage lies scattered on the beaches in Copacabana, Ipanema and Leblon as well. The trash collectors are on a strike seeking increase in their salaries.
"We are working to normalise operations," Vinicius Roriz, the president of Rio's municipal trash company, told journalists, Reuters reported.
This year, Rio Carnival attracted as many as 5 million people to the streets of Brazil's second-biggest city. About 400 street parades and block parties took place during the five-day festival that began on Friday.
Now most of the city's neighbourhoods have turned into garbage dumps.
"It's chaos. We have nowhere left to put all this garbage," said a doorman.
Authorities are unable to explain the delay in cleanup of the city. Roriz said that even if the negotiation with trash collectors materialised, it would take another three days to remove the garbage.
Rio and other eleven cities of Brazil will host soccer World Cup 2014 in June and July. The event is expected to attract 600,000 foreign visitors.
The trash collectors' strike during such a big event as Rio Carnival poses another possible problem of maintaining hygiene for the country that is already struggling with contractions delays, logistical problems and security issues ahead of hosting the World Cup, the report said.
Pictures below show the plight of Rio streets and beaches that are yet to be cleared of trash even two days after the Carnival.