The first night of Rio de Janeiro's Carnival competition saw five of the city's top samba schools parade in the Sambadrome, each delivering an over-the-top, hour-long all-singing, all bumping-and-grinding display in an attempt tocapture the title of Rio's best samba school.
Each samba school can have up to 4,000 dancers and a maximum of eight huge floats. Although each school ostensibly has a theme, the costumes often seem so random that it can be hard to identify the common thread.
The first school to parade through the huge, packed Sambadrome on Sunday was Império da Tijuca. Their elaborate floats and costumes represented the African origins of Brazil's music and many of its people.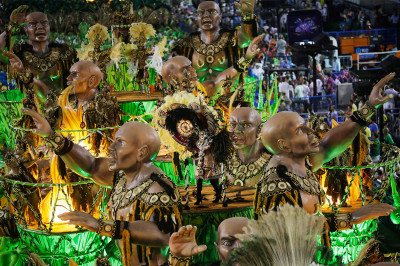 The next school to parade through the 700m-long stadium was Grande Rio. They chose to tell the story of the 200-year-old city of Marica, through the use of fountains, a human cannonball, dancers dressed as butterflies, and a guest appearance by Charles Darwin.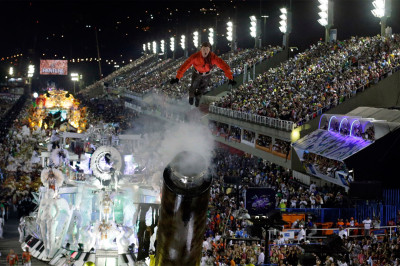 The Sao Clemente samba school chose 'Favelas' as their theme, using humour to highlight the problems of life in the slums.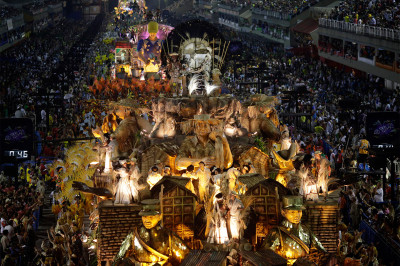 In contrast to some of the worthy themes chosen by the other samba schools, Mangueira chose 'Parties' as their theme. Their parade was a garish high-energy celebration, climaxing with their tribute to the biggest party of all: Carnival.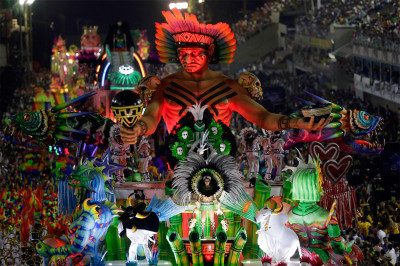 Salgueiro chose to represent the creation of the world and man's destruction of nature. Their parade highlighted the four elements, with sections devoted to fire, water, earth and air.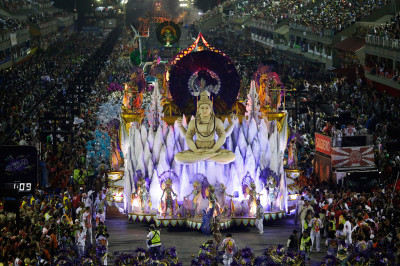 Finally, Beija Flor, who have won more titles in recent years than all the other schools put together, entered the Sambadrome. They attempted to portray the history of communication, but – looking at the floats and costumes – this may not have been obvious to the crowds who had sat through seven hours of partying.
The competition continues tonight with displays by six additional samba schools.