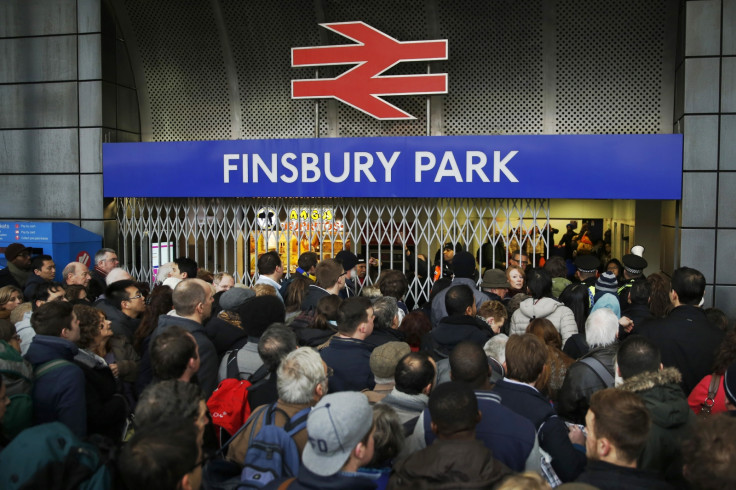 London rail commuters pay up to four times more for journeys to the office compared to workers in other European cities such as Berlin, Rome and Brussels, according to new research. Data collected by the RMT rail union added that the fares "gap" is set to worsen with UK passengers paying even more as it labelled ticket prices "the great British rail rip-off".
Commuters on Southeastern services from Maidstone to Charing Cross and Cannon Street, a distance of 35 miles, pay £412.50 (€460.30) a month. In comparison, those travelling from Luckenwalde to Berlin - 36 miles - pay £99.80.
Passengers on services from Milton Keynes (run by London Midland) to Euston, 48.5 miles, are charged £482.70 a month. Those in Italy travelling from Orte to Rome, 50 miles, pay £116.
Those on trains from Basildon to Fenchurch Street, 27 miles, (operated by c2c) pay a monthly fare of £264.60 but in Belgium commuters travelling from Antwerp to Brussels, 28 miles, pay £127.80.
"Anger is mounting over the government's indifference to the plight of commuters and rightly so," RMT leader Mick Cash told the Evening Standard.
He added: "The way this minority administration turns a blind eye to the great British rail rip-off is an absolute disgrace.
"It is a national scandal that UK passengers pay the largest proportion of their salaries in the EU just for travelling to and from work and are forced to endure unreliable and rammed out trains as part of the deal."
Fare increases
Passengers will learn in two weeks' time if fares are set to rise further in January. The Retail Price Index (RPI) for July, on which forthcoming rail ticket prices are based, will be published on 15 August. Economists forecast it will come in at between 3.6% and 3.9%.
This is far higher than the 2% rise in average wages, excluding bonuses, according to the latest research from the Office for National Statistics (ONS). It also tops the current rate of inflation at 2.6%.
Passenger Focus, the national rail watchdog, revealed last week that passengers in London and the south-east believe they suffer the worst service in the country. Southern, dogged by 16 months of strikes, Thameslink, Southeastern and Great Northern, come bottom of the passenger satisfaction list for operators across the UK.
The price of train tickets remains a key issue with just 47% of all passengers believing they received value for money, according to the National Rail Passenger Survey.
Also, last week Department for Transport data revealed that some peak times trains are carrying more than double their capacity as the network strains under demand.
Southern Rail's 7.16 East Grinstead to London Bridge service is the UK's worst offender, running at 213% of capacity, according to the Department for Transport data. This meant 1,366 passengers were on a train with space for 640, as it came into the capital from West Sussex.