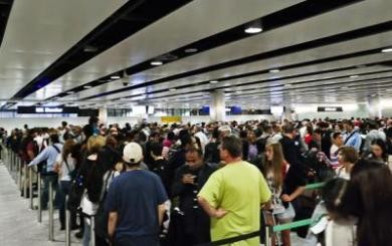 MPs are asking for more relaxed, risk-based border security checks in order to help ease unacceptable queues at airports.
The home affairs select committee has asked the Home Office to reintroduce a pilot scheme that allowed low-risk groups, such as families travelling with children and school parties, through security more quickly.
The scheme was abandoned last November after it was discovered that border guards had relaxed the rules further than originally intended without authorisation. The scandal led to the resignation of the head of the agency, Brodie Clark.
The cross-party group have expressed fears that queues at major airports - which already stretch to three hours in some cases - could lengthen when the Olympic s finish as the extra staff leave and normal workforce is their take holidays.
Chair of the Committee Keith Vaz said: "I am very pleased to see that the Minister for Immigration has kept his promise to the Committee that during the Olympics every kiosk at airports in the South East would be manned.
"However, as the Olympics finish international students will begin to arrive. We must ensure that the situation does not revert back to that witnessed prior to the Olympics.
"It must start taking the actions necessary to ensure passengers clear immigration in a timely manner and that queues are measured accurately.
"The Home Office must immediately reinstate the risk based pilot for entry checks that was abandoned by the Home Secretary last November."
The maximum queuing time was 1hr 55mins or longer in each month, reaching 2hrs 55mins last July and 2hrs 53mins in March.
"It is unacceptable for these long queue times to recur on a monthly basis," the committee said.
Border Force missed their target for processing non-EEA passengers within 45 minutes at every Heathrow Terminal in April 2012.
Shadow Immigration Minister Chris Bryant said: "Recent queues at our ports have been unacceptable and the Government has presided over an unnecessary shambles of late, with lengthy queues due to lack of staff and poor management from the Government.
"We need to start thinking beyond the Olympics and start considering what will happen once all the auxiliary staff have left."