Ritot 'Projector Watches' stand out from other similar devices by projecting data onto the wearer's wrist.
These smartwatches are manufactured by US based Ritot, and are branded by their makers as the 'World's first projection watch.'
The USP of Ritot smartwatches is that they come with an inbuilt projector that throws up whatever data the smartwatch holds onto your wrist. This data includes time/date, incoming calls, messages, social media updates, reminders and much more.
"Ritot will help you to stay on top of things with vibrating notifications, messages and alerts. Dismiss a notification with a shake of your wrist," states Ritot, on its official website.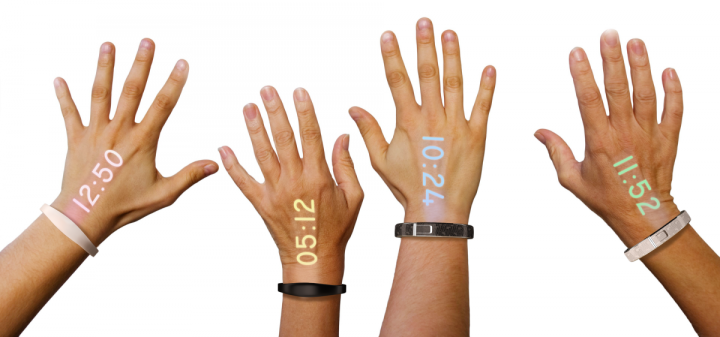 Another feature that is likely to grab users' attention is the form factor that Ritot's watches incorporate. With a bracelet-like simple outer structure, the gadget does not look and feel high-end.
Simple form-factors in wearable devices are generally sought after by users throughout the world; especially considering the fact that some recently launched wearables by biggies have a disappointing outer design.
The LG G Watch that recently went up for sale all over the world is a clear example of a wearable with a weird outer structure. LG's first wearable should remind old-timers of the Casio calculator watches that came with rectangular outer structure patterns.
Ritot Projection Watches, apart from their projection capabilities, also work cross-platform by syncing with all major smartphone platforms viz. iOS, Windows Phone and Android.
Ritot has also built a wireless charging functionality within its projection watches, and claims that the devices will offer a battery life of 150 hours in its Projection Mode.
The Projection Mode is activated with a simple shake of the hand or by depressing the button present in the front side of the smartwatch.
"Our projection technology is absolutely safe for your skin and health," the smartwatch's makers go on to add.
Ritot's projection wearables seem like a worthy competitor to the already existing smartwatches from Pebble that is considered as a feature-filled wearable.
Should Ritot's makers put a competitive price tag on their projector watch, it could provide tough competition to the wearables of big names such as Google, Samsung and LG.
Currently, the Ritot projector smartwatch has accumulated a total funding of $114,200 on Indiegogo (a crowd-funding campaign in the United States), and is available to people backing the project (the Projector Watch project as a whole) at a price of $120.
However, other details such as the official launch and release date are yet to be confirmed by its makers.