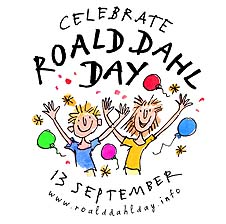 Roald Dahl Day commemorates one of the best-loved children's authors of the 20th century.
The Big Friendly Giant (BFG) meeting the Queen of England, Miss Trunchball the mad headmistress in Matilda, Fantastic Mr Fox constantly giving the slip to farmers Boris, Bunce and Bean, or Mr and Mrs Twitt getting stuck to the ceiling - the list of characters he created which children love goes on.
The Royal Mail even published a set of stamps featuring some of his best-loved creations last year.
Annual sales of books by Dahl stand at one million each year, more than 20 years after his death. A World Book Day poll listed four of his books in its top 10.
Classics such as Willie Wonka in Charlie and the Chocolate Factory look set to last as long as morer establised children's classics such as the Alice adventures by Lewis Carroll.
So perhaps it is just as well there is a whole day dedicated to such a rich collection of Dahl's work.
Part-Norwegian, Dahl came of age during World War II as a pilot in the Royal Air Force.
Generations of readers were nearly denied his unique brand of absurdity and anarchy when he came face to face with death in 1941. He crashed his Gladiator plane in thea desert in Egypt and almost died there.
What a loss to millions of children's bookshelves that would have been.
Hollywood saw something special
Fortunately, the young Dahl survived and he was able to go on to create a library of work adored by youngsters all over the world.
Hollywood saw something special too. Two versions of Charlie and the Chocolate Factory have been made - the first featuring Gene Wilder, the second Johnny Depp.
Despite the talent poured into the projects, neither of them captured the magic Dahl put down on the page. Matilda, the BFG and The Witches were also made into films but the common feature of them all is that you were always better off reading the book instead.
Dahl suffered his own share of tragedy. His daughter died, his son was badly injured in a traffic accident and his first wife Patricia Neal suffered three massive strokes.
Adult fiction Dahl wrote such as Kiss, Kiss was dark and grown up, but suffered in comparison to his children's oeuvre.
Roald Dahl Day is celebrated this year with a series of events to mark the 30th anniversary of the publication of The BFG. Visit the official website here.