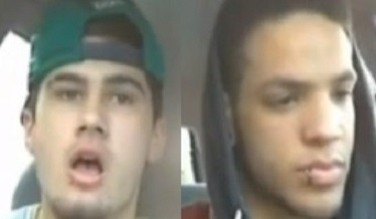 An alleged victim of an online "rape club" who boasted about their attacks on Facebook said police did not take her claim seriously enough because she was "asking for it" by wearing a skirt.
Police in New Zealand initially said the investigation into a group of male teenagers who call themselves "Roast Busters" - who boasted online about plying underage girls with alcohol before having sex with them - could not bring a prosecution as no alleged victims made a formal complaint.
However, it has since emerged that as many as four girls made complaints to police as far back as 2011, with one girl making a recorded formal statement when she was 13.
That girl, now aged 15, told New Zealand's TV3 she did not feel police fully investigated her complaint, when they found out she was wearing a skirt to meet one of the alleged attackers in 2011.
"They said that I didn't have enough evidence to show, because I went out in clothes that was pretty much asking for it," she said.
New Zealand's government has ordered a probe into how the original investigation was handled, with prime minister John Key describing the original treatment of the case as "frankly not good enough".
"This is a very serious issue. Parents around New Zealand will want to know that in the event their daughters make a complaint to police it's taken seriously, and actually, we're entitled to know all of the facts up front," he added.
Police admitted they had received an allegation about the Roast Busters in 2011, but there had been "some confusion" in the force as to whether it was a formal complaint.
Waitematä police district cmdr supt Bill Searle said: "I was briefed that there were no complaints. But when I saw the footage on TV, to me that was a formal complaint. That's when I made the decision that it was to be classed as a formal complaint."
Police have already denied suggestions the case about the online "rape group" was not fully investigated as one of the alleged attackers is the son of a police officer.
Searle added: "NZ Police take any allegations of criminal offending by any of its officers or their families extremely seriously and recent cases have highlighted that police will not hesitate to thoroughly investigate staff facing allegations of a criminal nature and will put them before the court if there is a case to answer."
Police Coms Peter Marshall has welcomed the calls for a review into police's original handling of the case, but said he believes it had been "investigated thoroughly".
He said: "Supt Searle and myself have apologised to the first victim who came forward in this matter in 2011, who did not initially have her formal complaint publicly acknowledged by police.
"However, I am now satisfied that her complaint was very thoroughly investigated, but this case did not meet the evidential threshold required for prosecution."