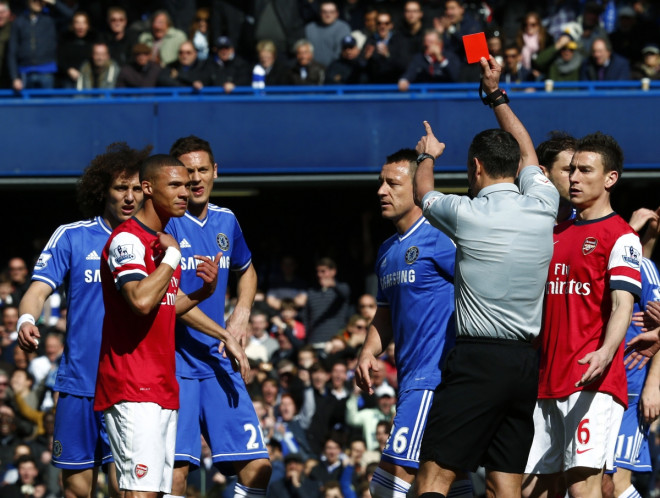 Former Manchester United academy graduate Robbie Savage has said Kieran Gibbs should have protested and refused to walk away from the pitch after Andre Marriner's decision to wrongly send him off during the Gunners' 6-0 defeat to Chelsea.
The incident took place in the first half of the game when Alex Oxalde-Chamberlain committed the hand ball offence. Marriner made a howler by giving marching orders to Gibbs, instead of Chamberlain.
The 43-year-old referee had expressed his disappointment and issued an apology for wrongly sending off the defender, instead of the England international, during the tie against the Blues at Stamford Bridge.
Luckily for Arsenal, the Football Association (FA) declared both Gibbs and Chamberlain will not be facing a ban. In addition to this, the FA also confirmed Marriner will officiate the Premier League fixture between Southampton and Newcastle United.
Savage is disappointed with the FA's decision not to take any action against the referee. The 39-year-old also admitted that he would have refused to walk away from the pitch, if he were in Gibbs' position.
"It sends out a dreadful message when a referee can make such a bad mistake and is not made to account for it," Savage told the Mirror.
"A week after he sent off the wrong Arsenal player at Stamford Bridge, Andre Marriner will be back in charge of a Premier League game this weekend, at Southampton. Sorry, but that's a farce.
"If a player makes a bad mistake, and is sent off for it, he has to serve a suspension. Why should referees get away with absolute howlers? I don't feel any sympathy for Marriner.
"He's at the top of his profession, he's well paid to do the job he loves – if he doesn't do it properly, he can't expect bunches of flowers.
"The standard of refereeing in the Premier League is a real cause for alarm. Too many big decisions have been wrong, and Marriner should know – mistaking Kieran Gibbs for Alex Oxlade-Chamberlain is not the first time he's made a shocking decision this season.
"As for Gibbs, I'm amazed he accepted Marriner's decision with so little protest - I would have refused to leave the pitch. Why should referees get away with blunders while players serve bans for theirs?" the former Premier League midfielder asked.