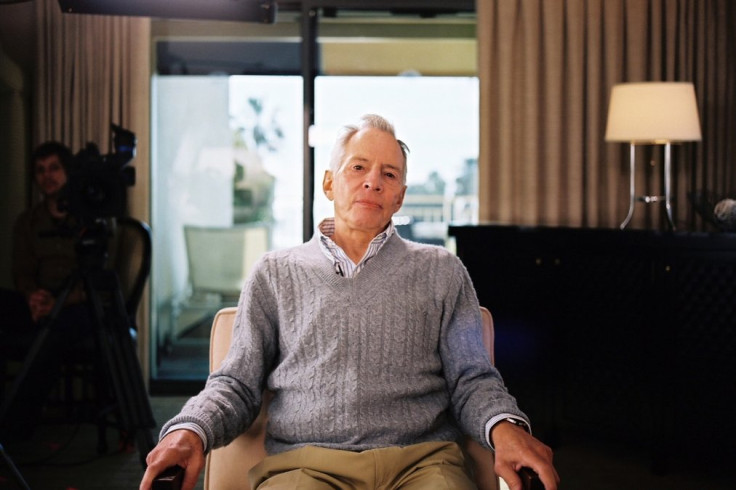 Quirky US criminal suspect Robert Durst has been sentenced to seven years on a weapons charge in the wake of an explosive true crime HBO series that apparently caught him in a multiple-murder confession.
Durst was charged with the 2001 murder of a Texas neighbor whom he dismembered before tossing the body parts into a Galveston bay. He was acquitted by a jury because defense attorneys said Durst had killed in self defense. He is also a suspect in the murder of his long-missing wife, and in the death of confidant Susan Berman.
The troubled heir of New York real estate scion Seymour Durst was the focus of a fascinating six-part HBO series The Jinx: The Life and Deaths of Robert Durst. The programme examined Durst's grotesque dismemberment of his neighbor and questions surrounding the other two deaths.
At the end of the series, Durst walks into a bathroom, still wearing a live microphone, and asks himself: "What the hell did I do?" He answers: "Killed them all, of course."
Durst, 73, was arrested by the FBI at the request of California authorities in New Orleans in March 2015 just before the last HBO episode was aired. He has been in jail there ever since and has now finally been sentenced for illegal possession of a .38-caliber pistol as part of a plea deal. He'll serve his time in a prison outside Los Angeles, where he is to be arraigned in late summer on a murder charge in Berman's death, the New York Times reports.
Prosecutors say Durst shot Berman in the back of the head in 2000 because she threatened to reveal what she knew about his role in the disappearance of his first wife, Kathleen, 18 years earlier.
Before New Orleans US District Judge Kirk Engelhardt approved Durst's plea-deal sentence on the weapons charge, and his transfer to California, a frail and shrunken Durst said in court that he had been looking forward to "get to Los Angeles for almost a year to enter my not-guilty plea" on the murder charge, the Times reported.
He will serve his sentence on Terminal Island outside LA, a minimum-security prison with facilities to deal with inmates with various health issues. "He didn't kill Susan Berman," said Durst's attorney Dick DeGuerin, who is interviewed in The Jinx.