Animal shelters are being overwhelmed with rejected wolf-like dogs, thanks to the popularity of the Twilight and Game Of Thrones fantasy sagas.
They say huskies and similar breeds have become the latest "status" dogs in the UK, and have been dumped in record numbers by owners who can't cope with looking after them.
Battersea Dogs and Cats Home in south London experienced a huge spike in huskies in 2008, the year the first Twilight movie was released.
The numbers continued to increase with the release of the four sequels and the debut of SkyAtlantic's Game Of Thrones in 2011.
These breeds have gained popularity due to characters like Jacob Black, the half-man half-wolf in Twilight and Dire Wolf, based on the Northern Inuit dog in Game of Thrones.
According to the Kennel Club, pedigree registrations in 2012 dropped by 30 per cent in Akitas, and 15 per cent in Siberian Huskies. However, the number of these dogs being rescued has significantly increased - by as much as 120 per cent in the last year.
The Akita Rescue and Welfare Trust reported that the number of dogs needing rehoming trebled to 91 in 2012, while the Friends of Akitas Trust took in another 35.
Similarly, the Siberian Husky Club of Great Britain Welfare Scheme reached its maximum capacity last year, which alongside two other rescue organisations, took in 158 huskies. Meanwhile the Japanese Akita Welfare Trust rescued more than 100 dogs.
"We've noticed a sharp increase in the number of stray and unwanted huskies arriving at our three centres in recent years and believe this may be fuelled by the television shows," said Battersea's Liz McWalter.
"Sadly, a lot of people fail to research the breed properly and take on a cute and fluffy husky puppy, not realising it will soon become a large dog that needs lots of exercise and mental stimulation."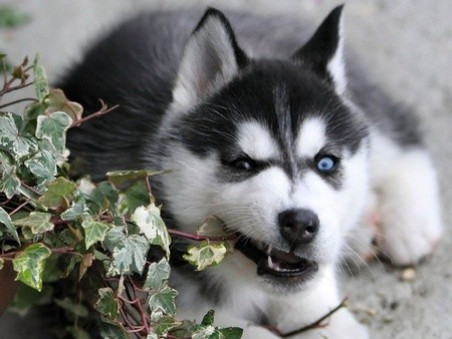 A spokesman for dog charity Blue Cross said their numbers of wolf-like dogs doubled last year.
He said: "These beautiful and distinctive breeds have become fashionable over the years but unfortunately they may be chosen because of their looks alone.
"They require a considerable amount of exercise and, if you're not able to offer this, then you may find you have one unhappy and frustrated dog.
"Many of these breeds have plenty of energy and stamina because of the jobs they were selected to do.
"For example, Siberian huskies are able to pull sleds across miles and miles of icy terrain."
The fifth and final instalment of the Twilight series concludes the love story of vampire Edward Cullen, Robert Pattinson and his once-human wife, Bella, Kristen Stewart, who fight off another band of vampires. USA today's film critic Claudia Puig said: "Fans of the series, which has made more than $2 billion (£1.3 billion) worldwide, will no doubt find it all terribly romantic and deeply meaningful. The rest of humanity will remain unmoved."
It will compete with Game Of Thrones: Season Two, which was released recently. The TV show features giant wolves called direwolves - portrayed by the Northern Inuit breed - the loyal and ferocious protectors of the heroic Stark clan.
Mick Brent, secretary of The Siberian Husky Welfare Association, said: "We are all full to the brim with unwanted dogs and are faced with an unprecedented demand for our services. Unfortunately, it is a huge and increasing problem."