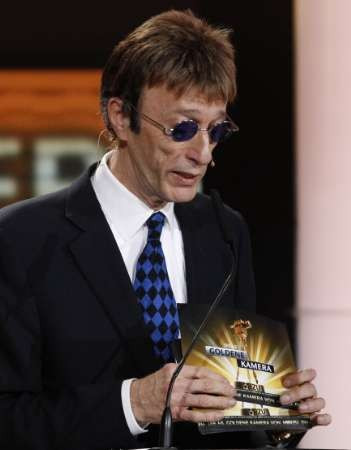 Bee Gees singer Robin Gibb has woken from coma and is responding to his family by nodding his head, his spokesman Doug Wright has confirmed.
According to the Daily Mirror, the singer has been showing signs of recovery by nodding his head. He is also said to have wept when Roy Orbinson's hit song "Crying" was played to him. Robin Gibb's children as wells as his younger brother Barry have been playing music and singing to the star.
The singer who has been battling liver and colon cancer, slipped into a coma last week after suffering from pneumonia. His family members including wife Dwina, brother Barry, daughter Melissa and sons Spencer and Robin-John, have been at his bedside keeping vigil on the singer and praying for him.
While speaking to The Impartial Reporter, based in Enniskillen, Northern Ireland, Dwina said their children; Robin John (RJ), Spencer and Melissa have been playing music to their father to "try and bring him back to us".
"His brother Barry, his wife Linda and son Stephen came over from America. Barry was singing to him. Thousands of people are saying prayers every day," she said.
Dwina also said that she was grateful to her family for giving them continuous support.
"My mother has been frequently communicating with us by phone and keeping us close in her prayers. I am very grateful for the special support I have been receiving from my nephew Steven Murphy who has been keeping a close vigil at Robin's beside and being of great support to all of us friends and family here in London. We adore him," she told The Impartial Reporter.
Gibb's friends revealed that the singer had maintained a bucket list by his bedside and added to it before falling into coma. The singer was seen scribbling down ideas for his songs in a notebook and was also planning for his future. He had a plan to set up a charity for children and produce more music, reported the Daily Mirror.
Earlier, Gibb was forced to cancel his London premiere of "The Titanic Requiem", which he composed with his son Robin-John commemorating the 100thanniversary of the tragedy.